GETTING GLASS FIT FOR PURPOSE
Oct 05 2018
Frostbrite from The Window Film Company is a versatile and effective product, delivering multiple solutions with a single application. This project, an installation at a gym facility, saw the product used to meet three separate requirements…
The first issue was that of privacy. Once installed, Frostbrite frosted film gives glazing the appearance of acid-etched or sandblasted glazing, serving to block the view from both sides of the glass without sacrificing natural light. The professional, stylish finish makes it a popular choice for homeowners and commercial premises alike. On this occasion the film was chosen to provide an element of privacy, with the film supplied in a band and placed across the central section of the glazing.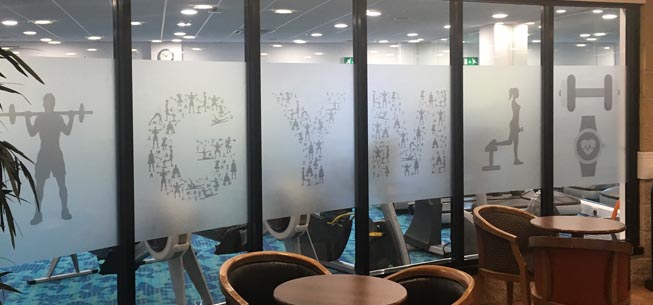 By positioning the film in this location, the frosted window film also solved another issue; the need for manifestation. These markings are required of glazing of a certain size (usually glass partitions, doors or large windows) and are necessary to make glass clearly visible. Building Regulations dictate that these markings must provide an obvious contrast with the background as well as being present at two specific points on the glazing. By applying a band of frosted window film across the central section of the glass, both requirements were met.
The final element of the project was the inclusion of bespoke printed graphics, required to provide a decorative finish. The graphics, a combination of icons and wording, were provided by the client and printed onto the Frostbrite film by The Window Film Company's in-house print and design team.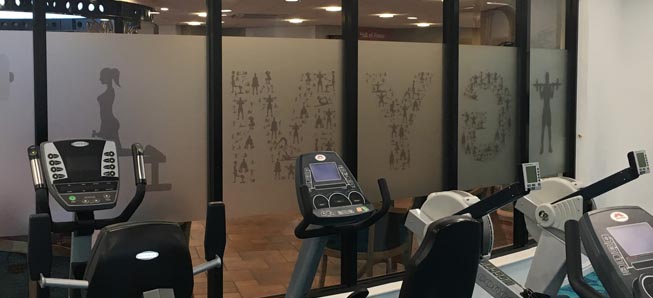 Once installed by a team of The Window Film Company's fully qualified fitting teams, the bespoke film gave the premises a stylish, professional and welcoming look, while also delivering privacy and meeting manifestation requirements.
Three solutions, one product.
Or more information on Frostbrite frosted window film or details of the other products and installed by The Window Film Company, please contact a member of the team on 01494 794477 or email info@windowfilm.co.uk.