PARTIAL PRIVACY AND MANIFESTATION
Sep 21 2018
Large windows bring with them a multitude of benefits; excellent levels of natural light, a view in and out and a sleek aesthetic finish to name but a few. They can also lead to a range of potentially unforeseen issues, with two such problems, the need for manifestation and privacy, solved by The Window Film Company with a single installation.
The initial requirement on this particular project was a need for manifestation markings. Simply put, these are markings placed on glass of a certain size to ensure it is easily visible to the naked eye. These markings are required under building regulations; typically for full length glass, and need to be positioned at two specific locations on the glass. (For more information about manifestation and a full explanation of what's required, please visit our dedicated manifestation section ).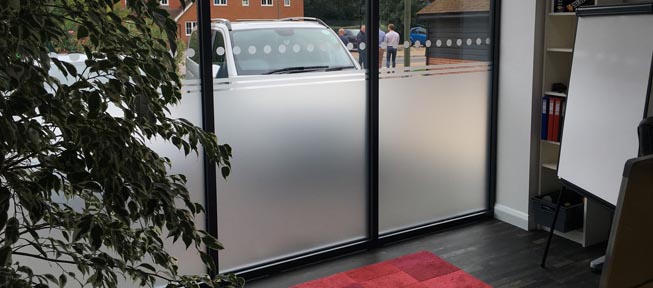 This project also required the addition of an element of privacy. He glazing in question was a full glass frontage, meaning passers-by could have an unobstructed view into the premises, something that needed remedying. The solution for both the manifestation and the privacy requirement was an application of Frostbrite frosted window film.
Frostbritre frosted film from The Window Film Company is a high quality, high performance frosted film that when applied to glass, gives the appearance of acid etched or sandblasted glass. This makes it a hugely popular choice for manifestation as it provides the necessary contrast while also delivering a stylish appearance and finish. As long as manifestation markings are of a minimum size, they can be any shape and on this occasion, dots were chosen.
Frostbrite also delivers from a privacy point of view, with the film blocking the view from both sides of the glass while still allowing excellent levels of natural light to pass through the glazing. On this occasion, an extra design flourish was provided in the form of two additional bands of film, helping to provide a stylish and effective solution.
Both the manifestation and the privacy panels were computer cut by The Window Film Company's in-house print and design department before being installed by a team of our highly qualified and vastly experienced fitters.
For more information on manifestation or for details on how The Window Film Company can provide you with a bespoke privacy solution, please contact a member of the team on 01494 794477 or email info@windowfilm.co.uk.