SPACE INVADERS - ON GLASS!
Apr 05 2019
Glass manifestation bespoke design using window film
Manifestation markings. On the face of it they are a fairly mundane requirement; set out in building regulations and necessary to make large panes of glass or partitions easily visible to the naked eye. While there are certain requirements that must be met (minimum size and location) there is nothing to stop a need for manifestation being an opportunity to get creative with your windows or glass partitions…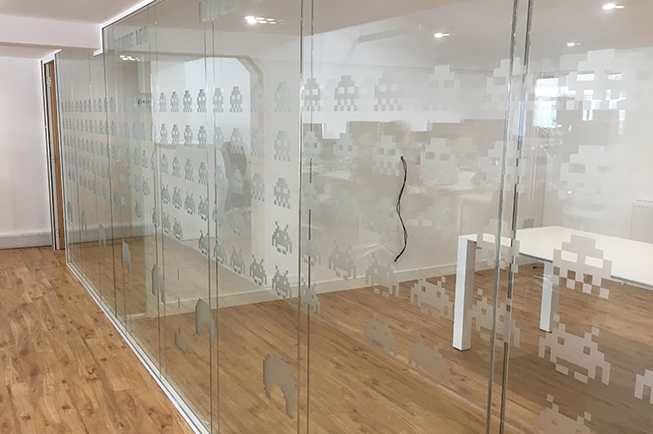 The Window Film Company was contacted by an Oxford based company with a manifestation requirement – they had a number of full-length glass partitions that building regulations dictate must feature markings. The brief on this occasion was an interesting and exciting one; instead of standard dots or bands, the company had decided that their manifestation should take the form of graphics from the classic space invaders computer game!
Upon receipt of the brief, it was possible to advise that the best approach would be to use Frostbrite frosted window film to deliver the project. This high-performance film is popular as a solution for manifestation for a number of reasons. Firstly, the frosted appearance provides the necessary contrast between the glass and the background. This is a vital component as it's the job of the markings to make the glass easily visible. Secondly, it is long lasting and durable – vital for effective usage in high traffic locations such as corridors and glass partitions. Finally, Frostbrite frosted window film can be computer cut to create bespoke graphics and designs – precisely what was required in this instance.
The same process was to be used to create two further brand-lead design elements; the first featuring the company name cut from Frostbrite frosted film and the second being the company logo.
Each element was created by The Window Film Company's in-house print and design team, who used state of the art computer cutting technology to perfectly reproduce each part of the project. Every individual component was then finished and checked by hand ahead of installation by one of The Window Film Company's fully qualified and vastly experienced fitting teams.
The finished project saw the office meeting manifestation requirements in a stylish, fun and impressive way, delivering an element of style and creativity whilst also incorporating the company branding.
For more details and information on how The Window Film Company can help you flex your creative muscle when it comes to glass manifestation and office branding, please call a member of the team on 01494 794477 or email info@windowfilm.co.uk