DOTTY FOR SPOTTY NEW LOOK
Aug 16 2019
Frosted window film for privacy and manifestation
Frostbrite frosted window film provides a stylish and durable solution to a host of glass related issues. A single application of film can deal with a multitude of requirements, as evidenced by this recent installation.
Once applied, Frostbrite frosted window film gives glazing the appearance of acid-etched or sandblasted glass. This serves a number of purposes. Firstly, it delivers privacy – the frosted appearance blocking the view form both sides of the glass, while still letting excellent levels of natural light to pass through the glass. The second use is for a decorative upgrade. Frosted film gives glass a stylish and contemporary look, with the classic appearance meaning it is a perfect fit for any internal design scheme. Finally, the film provides a perfect way of meeting manifestation requirements – serving to make large panels of otherwise hard to see glass easily visible to the naked eye.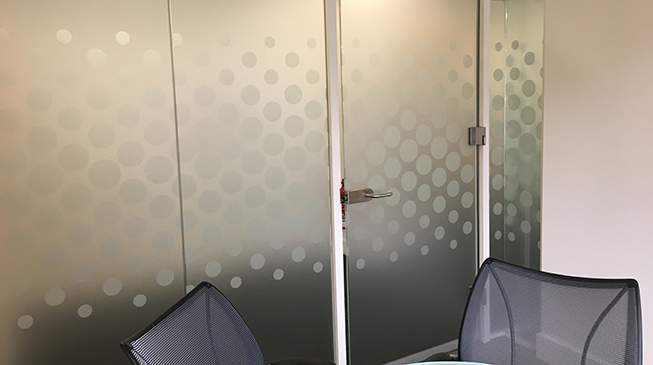 This project made use of each of these benefits, with custom created panels of Frostbrite window film printed and applied to glass partitions throughout an office premises.
The requirement for privacy was met by the Frosted effect, the film immediately preventing a view from both sides of the glazing. the film also met manifestation requirements, which dictate that glass of a certain size have markings at specific locations to ensure the panes are immediately clear to the naked eye, serving to prevent accidents. You can learn more about manifestation legislation and how The Window Film Company can help ensure you meet your obligations here.
The final purpose of the film was to give the office a striking, professional and welcoming new look. The client had decided that they wanted the film to feature a design featuring repeated circles or dots. Having discussed the requirement, it was agreed that the design would be created by printing the pattern in white ink across the central part of the film, creating a band of stylish graphics running across a number of panels.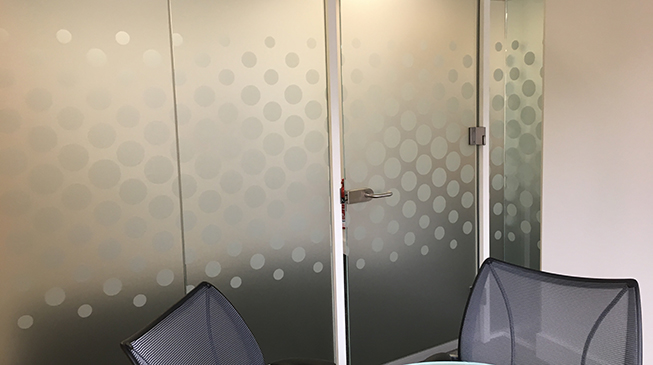 The bespoke film was created by The Window Film Company's in-house graphics and print team, using state of the art printing and cutting technology to ready a number of perfectly sized and scaled panels ahead of installation. The fitting process was carried out by a team of The Window Film Company's fully qualified and vastly experienced installers, who were able to complete the project with the minimum of fuss and disruption.
The completed project met all three objectives in a stylish and attractive way, providing privacy, meeting manifestation requirements and delivering a stunning new look.
For more information on how The Window Film Company can help with your privacy, manifestation or decorative requirements, please contact a member of the team by calling 01494 794477 or email info@windowfilm.co.uk.