ON COURSE FOR COLOUR
Aug 23 2019
Coloured window film installation for a bright and bold new look
The Window Film Company offers a range of window films that are perfect for giving premises a striking new look. Using colour is a bold and stylish way of using your glass to make a stylish statement, with this project at a London school providing a perfect example.
The school, which provides an education for nearly 1,500 students, was keen to ensure that the premises provide a welcoming environment, an inspiring one that is conducive to a good atmosphere and learning. One of the school buildings, featuring a host of large windows, had previously been decorated with a type of film, but it was felt that a superior, upgraded display was needed and The Window Film Company was engaged to deliver.
The brief was to deliver several strips of vibrant colour, creating striking columns of bright shades including yellow blue and pink by applying film to the appropriate windows. A site visit was undertaken to meet with the client, to get a full understanding of the brief, to discuss the potential solutions and to measure up the glazing.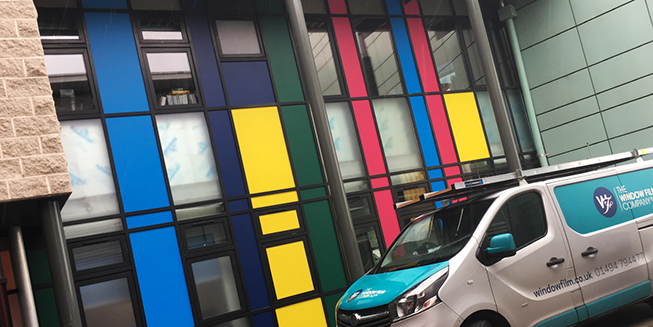 To get the desired effect of solid colour columns, The Window Film Company recommended a matt finish coloured vinyl. Available in a wide range of vibrant finishes, the film is designed for external use – perfect for this project as an internal application wasn't logistically possible. The film also blocked the view through the glass, another requirement of this project, with the desired finish required to deliver privacy as well as a new look.
After seeing and experimenting with samples, the film choice was approved, allowing The Window Film Company's operations team to organize a suitable installation date with the school. It was necessary that the work took place outside term time, with the project needing to be complete before the end of the summer holiday. After agreeing on a suitable date, the installation was undertaken and completed by a team of The Window Film Company's fully qualified and vastly experienced fitting teams.
Once the project was complete, the frontage was transformed to provide a bright, welcoming and impressive appearance, providing the necessary elements of privacy while also serving to immediately improve the look of that part of the school.
For more information on how The Window Film Company can transform your premises with coloured window film or printed graphics, please contact a member of the team by calling 01494 794477 or email info@windowfilm.co.uk.