GORGEOUS GEOMETRY
Aug 08 2019
Glass manifestation markings bespoke geometric design
Manifestation markings are required by law to make glass of a certain size clearly visible. Untreated glass, especially large panels such as glass partitions, can be difficult to detect by the naked eye, so manifestation markings are applied to avoid accidents. While these additions are required under building regulations, they do also provide an opportunity to get creative and to give your glazing a stylish and memorable new look…
Building regulations dictate that manifestation markings must be present on glass of a certain size; usually floor to ceiling glazing such as partitions or glass doors. The regulations stipulate that the markings, which must provide a clearly visible contrast between the glass and the background, must appear at two specific heights and must also be of a minimum size (between 50 and 150mm high depending on the type of manifestation chosen) but as long as these requirements are met, manifestation can provide an opportunity to get creative.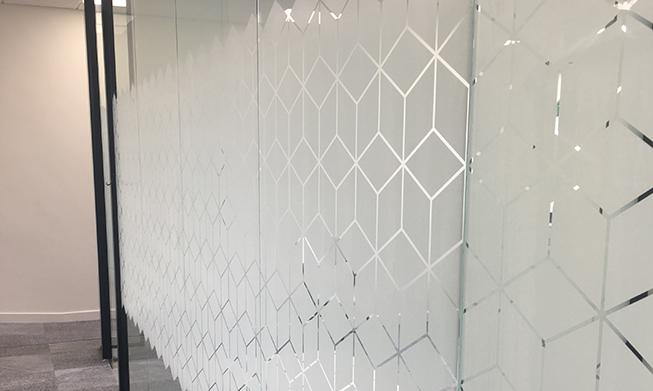 That's exactly what a recent client decided to do, choosing to use the need for manifestation to also deliver an element of privacy and a striking, stylish and professional decorative addition.
The Guildford based company provided a striking geometric design, that they wanted to be recreated across the central portion of a large number of glass partitions. In applying this graphic to the glass, manifestation requirements would be met, an element of privacy would be afforded to those inside each room and finally, the glass would take on an exciting and impressive new look. The question for The Window Film Company was, how would the desired result be achieved?
Upon receipt of the artwork it was clear that the design was quite an intricate one. With this in mind, it was suggested that the design be printed onto an optically clear film. This method allows for the recreation of detailed graphics without the need for cutting; in effect, the only parts are visible are the printed areas, with the rest of the film left totally transparent and invisible to the naked eye.
The frost effect pattern was printed onto 117 individually sized panels, with The Window Film Company's in-house print and graphics team meticulously creating each panel to ensure that the pattern flowed seamlessly from one panel to the next. Each panel was printed and cut using state of the art equipment, before being finished and checked by hand to ensure a perfect finish.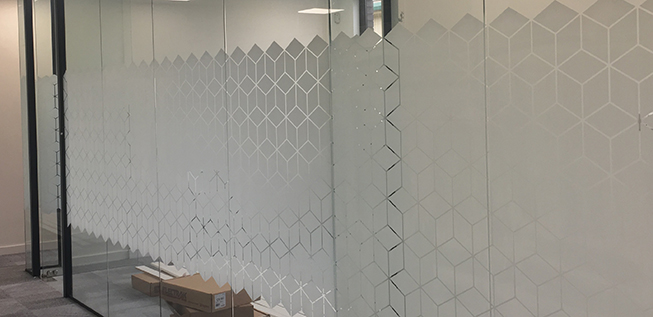 The film was then installed by a team of The Window Film Company's fully qualified and vastly experienced fitting teams, who were able to complete what was a sizeable job with the minimum of fuss and intrusion.
The end product was an office with a stylish and professional new look that also met with manifestation legislation. For more information on how The Window Film Company can create and install bespoke graphics to meet your manifestation, privacy and decorative requirements, please contact a member of the team on 01494 794477 or email info@windowfilm.co.uk.