WOOLLY AT THE WINDOW FILM COMPANY
Dec 13 2019
Staff at The Window Film Company have donned their finest festive attire in support of the annual Christmas Jumper Day, raising money for Save the Children UK.
The annual event has snowballed into a huge fundraising effort, with millions of people taking part across the country, with everyone donating much needed money in exchange for wearing a Christmas jumper for the day.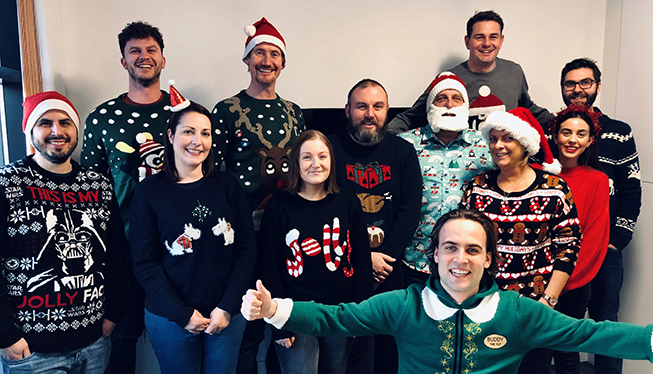 There were a host of different styles on show at The Window Film Company's Buckinghamshire HQ, with many of them worn by a single member of staff, as the team had an unofficial tilt at the record for most Christmas jumpers worn by one person. Our very own Emily gave it a valiant go, managing to don 14 of her colleagues Christmas pullovers!

The day resulted in a fabulous atmosphere in the office, with the festive feeling well and truly kicking in ahead of the holidays, but it is of course important to remember the reason for the event. Save the Chiildren rely on donations to carry out their important work in the UK and beyond, working tirelessly to make sure that children are as safe and healthy as possible, doing all they can to provide support and to tackle problems including health, hunger and humanitarian emergencies.
Whether or not you're wearing a Christmas Jumper, you can make a donation to this important charity right here >> https://www.savethechildren.org.uk/donate