PHASE ONE FROST
Dec 20 2019
The Window Film Company has completed part one of a two-phase project for designer furniture store Arighi Bianchi, installing stylish printed frosted film to the extensive glass roofing.
Arighi Bianchi is based in Cheshire, with a large HQ and showroom that boasts a large glazed roof. While this expanse of glass adds to the character of the building, serving to provide excellent levels of natural light to the interior. However, it also meant that the internal temperature was often too high, with solar energy streaming through the glass and raising the heat levels. This meant that first part of the brief was to deliver an effective solar control solution.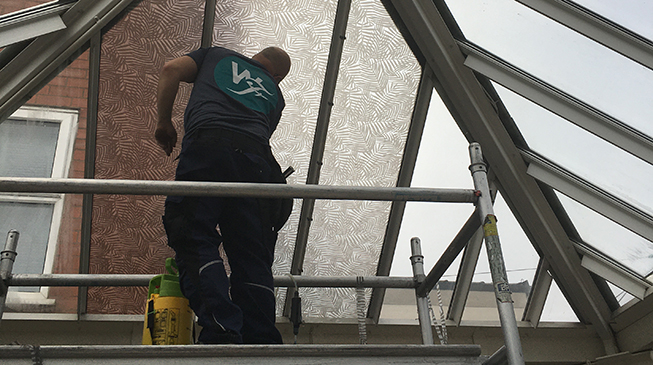 As an organisation with design and creativity at their core, it was also decided that the large glass roof provided an excellent opportunity to add an extra element of style by adding a decorative element to the entirety of the roof glazing.
It was agreed that the solar control element would be tackled with an application of external grade High Reflective Silver. This highly effective solar control product works by giving the external face of the glass a mirrored appearance that serves to reflect away solar energy before it can pass through the glass and add to the internal temperature. It was agreed that this phase of the project would be tackled in early 2020, with the external application (necessary because of access issues) booked to take place at a time when the weather is more likely to be helpful to an extensive installation that is exposed to the elements.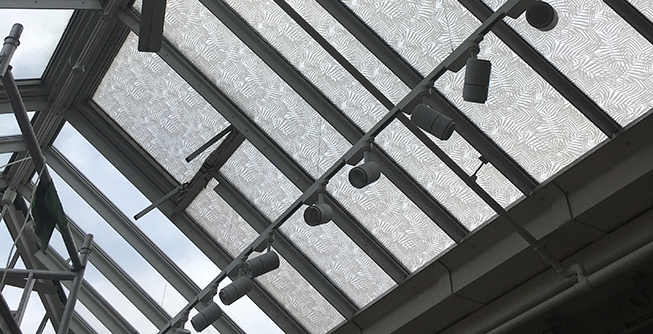 It was therefore agreed that the initial focus would be on the decorative element, with the first task being a full site survey to ascertain the number and size of each pane. With this detail, The Window Film Company's in-house graphics and print team could create the desired design with confidence, being able to take into account edge gaps, ensuring that the design would flow seamlessly from pane to pane.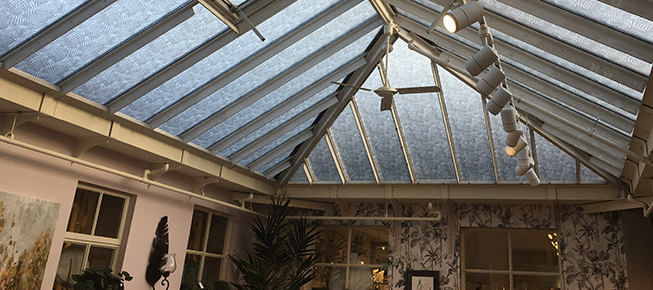 It was agreed that the graphics, supplied by the client, would be printed in white ink, with the opacity level of the ink agreed between the team at Arighi Bianchi and The Window Film Company's graphics team, with the collaborative approach helping to ensure that the finished appearance is exactly as hoped and expected. The film to be used was Frostbrite frosted film, a long lasting and durable product, that when applied delivers a classic frosted appearance, blocking the view form both sides of the glazing without sacrificing natural light.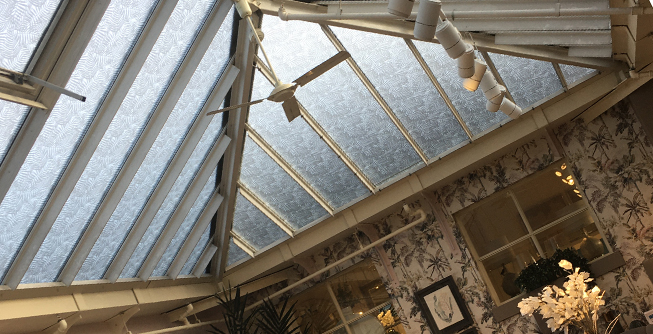 Each panel was printed and computer cut by The Window Film Company's print and graphics team before being checked and finished by hand to ensure each and every panel was perfect. With the film created and checked, it was installed by a team of The Window Film Company's fully qualified fitting teams, using access equipment to complete the application with the minimum of disruption and to deliver a perfect finish.
The installed film completely transformed the look and feel off that part of the premises, delivering a stylish and eye-catching new look without blocking natural light, ensuring a pleasant environment for staff and visitors. Watch this space for details of the second part of the project in early 2020…