RAISE A GLASS TO GRAPHICS
Dec 06 2019
The Window Film Company has printed and installed a set of stylish full colour graphics for a pub management company in Birmingham.
When a company in Birmingham required a privacy solution for their smart new offices, they decided to use custom created graphics to meet the need, while also giving the glazing and office an eye-catching and stylish new look.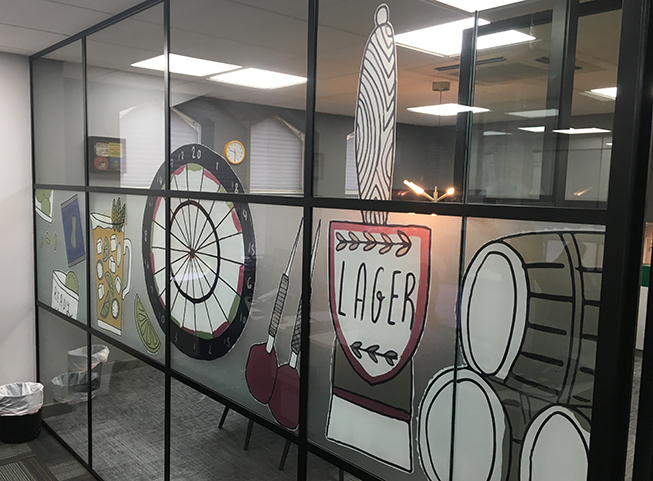 The Window Film Company were approached with a brief that involved recreating graphics that would span a number of panels across glass partitions in the office. The graphics were required to deliver an element of privacy, with the graphics running through the centre of the glazing to block the view through the middle section of the glass, leaving the glazing clear at the top and the bottom.
With a full understanding of what was required and having had sight of the graphics, the team at The Window Film Company were able to offer a solution. The suggested plan was to use Frostbrite frosted window film, long lasting, durable and contemporary looking film, that when applied to glass gives it the appearance of acid etched or sandblasted glazing. This effect serves to block the view from both sides of the pane while still allowing excellent levels of light to pass through, also delivering a stunning aesthetic finish.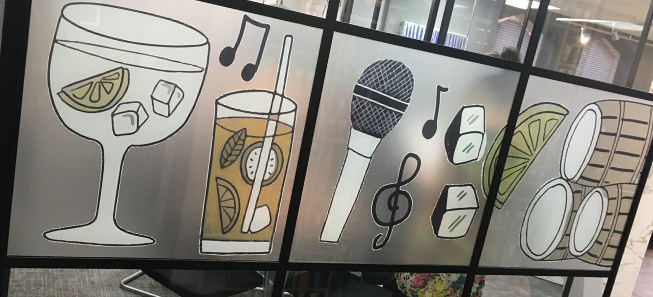 Frostbrite frosted film also provides a perfect surface on which to print, with The Window Film Company using state of the art wide format printers to recreate graphics in perfect detail, with bright vibrant detail. Samples of printed Frostbrite were supplied to the client, who agreed that this was the best course of action.
With the green light given, The Window Film Company's in-house print and graphics team set to work. The first job was to correctly lay out the graphics, ensuring the different elements were created in a pleasing formation, flowing across each pane to deliver the best possible look and aesthetic finish. Part of this task involved taking into account the size of the gaps between each individual pane, ensuring that the design flowed perfectly from panel to panel.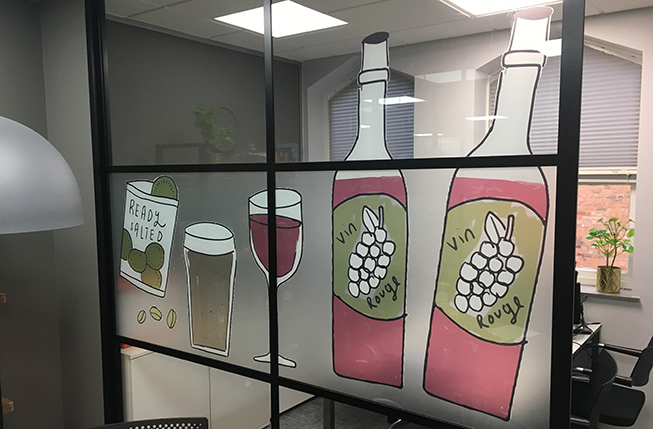 At certain points throughout the run, graphics extended above the middle panels. For these sections of the design, the graphics were precision cut, meaning that in the upper panes, just the cut part of the graphics were visible.
Each of the nine panels were printed, cut and hand finished ahead of being installed by a team of The Window Film Company's fully qualified and vastly experienced fitters, completing the project with the minimum of disruption and delivering a stylish, professional and welcoming display.
For more details on how The Window Film Company can add impressive custom created graphics to your glass and other surfaces, please contact a member of our team by calling 01494 794477 or email info@windowfilm.co.uk.