OFFICE BRANDING, MANIFESTATION AND PRIVACY
Feb 15 2019
Internal glass partitions around meeting rooms branded with window film
Glass partitions continue to be a popular feature in modern offices. They provide a contemporary and stylish way of dividing up space, while also offering a number of additional opportunities and challenges. The Window Film Company can help deliver both, ensuring that occupants make the most of their internal glazing.
This project was at the new offices of a London law firm. The premises featured extensive glass partitioning and a number of elements for the glass were required, with the first consideration being manifestation. Manifestation markings are required under building regulations, and are necessary to ensure that floor to ceiling glass is easily distinguishable, in turn serving to prevent accidents. The regulations dictate that markings must be present at certain locations on the glass and the appearance must provide a contrast with the background.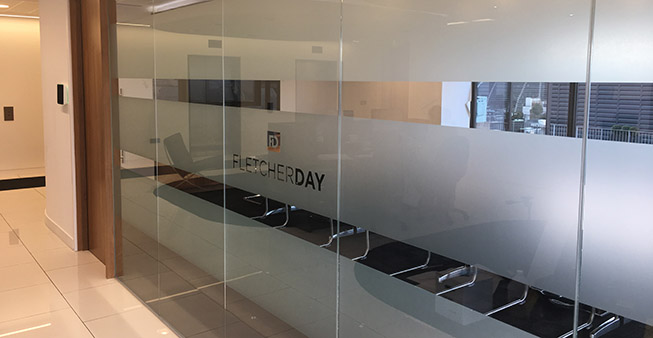 The second element of the project required a solution that would deliver an element of privacy. The glass partitions formed meeting rooms and work spaces and it was important that those working inside be afforded an element of privacy.
Finally, it was decided that any solution should also be used to feature the company branding. Taking into account these requirements, The Window Film Company was able to offer a solution using Frostbrite frosted window film; a durable, long lasting and stylish looking product that once applied gives glazing the appearance of acid etched or sandblasted glass.
To meet the privacy requirements, it was agreed that three bands of Frostbrite frosted film would be applied horizontally across the glazing. By strategically placing the bands of film it was possible to deliver a suitable level of privacy without completely covering the glass. The positioning of the film also meant that manifestation requirements were met (as long as markings are present at the locations and meet the minimum size set out in the regulations, manifestation can take any form).
The final aspect was the branding which was to take the form of the company name and logo. It was agreed that this would be cut from the film, creating a clear and stylish representation of the artwork.
Each element was created by The Window Film Company's in-house print and graphics team, with the film precision cut before being checked by hand ahead of installation. The fitting was undertaken by a team of The Window Film Company's experienced and fully qualified installation teams, delivering a flawless finish with the minimum of disruption to the office.
The finished installation is a simple yet stylish solution to a three-part brief, delivering manifestation, privacy and branding in one cost effective installation.
For me information on the full range of solutions, products and services offered by The Window Film Company, please contact a member of the team on 01494 794477 or email info@windowfilm.co.uk