GET NOTICED WITH GRAPHICS
Feb 08 2019
Windows and glazed frontages are the ideal place to share your message; if you know how! Using state of the art print technology and advanced printable media, The Window Film Company can create eye—catching graphics and displays for your shopfront, windows or glass partitions.
This project saw The Window Film Company approached by a property management firm to create some signage for application to the windows of an available property.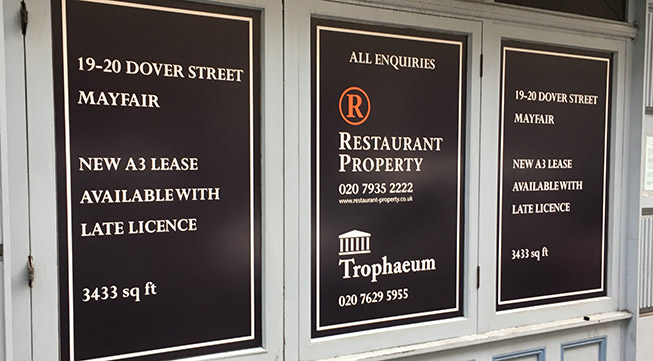 The requirement was for a series of graphics to be applied to the external side of five large windows, providing details of the property and contact details, using the glazing as an advertising and an awareness raising opportunity.
The nature of the glazing meant that the chosen product would have to be suitable for an external application, and it was decided that a low tack white vinyl be the most appropriate option. This tough, durable film provides an excellent surface for printing onto, while also being tough enough to perform in an external setting. The film also boasts a special adhesive that creates a strong bond while also being straightforward to remove, allowing the glazing beneath to be quickly and easily restored to its former state.
The graphics were supplied by the client, enabling The Window Film company's in-house print team to prepare the artwork and reproduce the designs perfectly ahead of installation. Each of the five panels was printed using cutting edge wide format print capabilities, before being finished and checked by hand to ensure the perfect finish.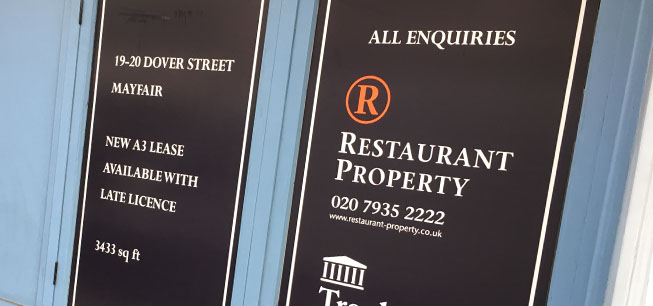 Each installation is organised via The Window Film Company's Operations team, who liaise with each client to organize a suitable installation date and time – thus ensuring the work is carried out at the time most suited to the customer. The installation was carried out by a team of The Window Film Company's fully qualified and experienced fitters, delivering a professional looking finish that will serve as a stylish and eye-catching advertising exercise.
For more information on how The Window Film Company can meet your printed graphics needs for internal or external application, for glass and other surfaces, please contact a member of the team on 01494 794477 or email info@windowfilm.co.uk.