BRIGHT BRANDING
Jan 11 2019
Office building reception branding with window film and graphics
Branding is a key component in the success of any business. Getting this aspect right could be the difference between success and failure, and The Window Film Company has helped countless organisations bring their branding to life in a host of impressive and innovative ways. It doesn't always have to be a huge project to make an impact, though. Carefully considered smaller additions can also have a big impact…
The Window Film Company was approached by a Hampshire based mortgage broker who wanted to add an extra element of branding to their reception area. The rationale behind this was simple and sound; the reception area will almost always be the first part of the office visitors and clients see, so ensuring it looks welcoming and professional is of vital importance.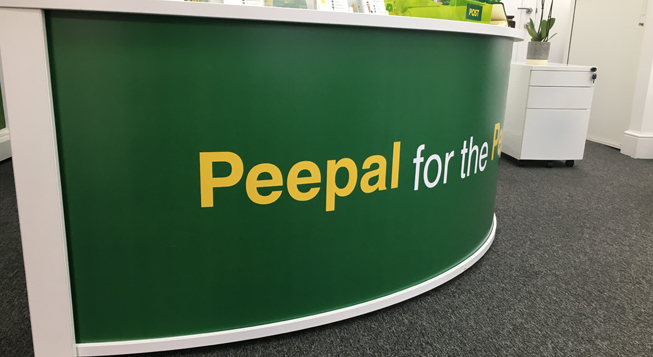 The area in question for this project was the reception desk, where it had been decided the company name, strapline and logo should be prominently featured.
With the surface currently plain, but in the correct company colour, it was agreed that the best solution would be to add the new detail by creating a band of full colour printed graphics. By using state of the art print technology, The Window Film Company is able to recreate even the most intricate of designs using a range of different products. For this project, a solid vinyl film was chosen as it provides the perfect surface on which to print, delivering the most vibrant and impactful appearance.

The client was able to provide the necessary artwork and sizes, allowing The Window Film Company's print and design team to create a visual proof before obtaining approval and proceeding. Upon receiving approval the graphics were printed, before being hand finished and quality checked.
The next stage of the process was installation, undertaken at a time and date agreed in advance with the client to ensure the minimum of disruption. The work was carried out by a team of The Window Film Company's fully trained and vastly experienced fitting teams, who were able to fit the graphics without disrupting the daily operations of what is a busy office.

Once completed, the graphics gave the reception area a professional and stylish appearance, showcasing the brand in a bold yet elegant fashion.
For more details on how The Window Film Company can help you bring your branding to life, no matter the size of the project, please call a member of the team on 01494 794477 or email info@windowfilm.co.uk