MANIFESTATION - MORE THAN JUST MARKINGS
Jan 25 2019
The Window Film Company printed and installed stylish printed graphics at a Peterborough office to meet manifestation regulations while also delivering a stunning new look.
Premises with full height glass; usually in the form of partitions or doors, are required by building regulations to have manifestation markings in place. The purpose of these markings is to ensure that the glass is visible to the naked eye, in turn serving to prevent accidents.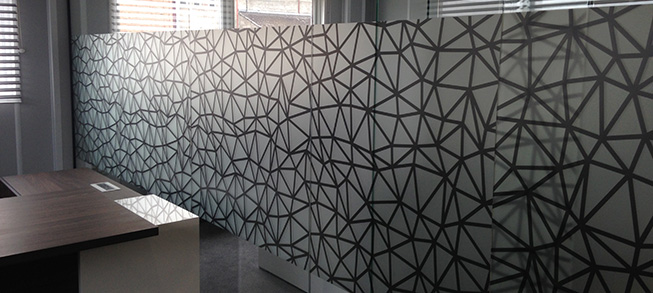 The regulations (Requirement M1 and M2 of the Building Regulations of 2000) state that full height glass must feature a manifestation marking at two levels; between 850mm and 1000mm and 1400mm and 1600mm above the floor. These markings must be a minimum of 50mm in height.
While the minimum size and positioning of manifestation must be adhered to, these are the only stipulations, meaning that with a bit of creativity, this legal requirement can be used as an opportunity to add a new, stylish and impressive look to glass and glazing.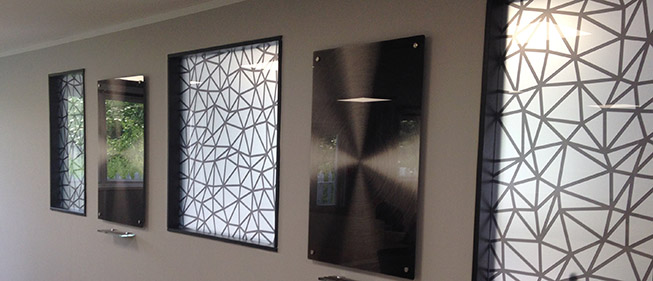 On this occasion, it was decided that the need for manifestation would be met with a band of Frostbrite frosted film, printed by The Window Film Company to feature an eye-catching repeated graphic.
Frostbrite frosted window film is a popular choice for manifestation as once applied, it gives glass the appearance of acid-etched or sandblasted glass, providing the necessary contrast to be an effective and aesthetically pleasing manifestation marking. By choosing a band that runs horizontally across the centre of the glass, the film will hit both necessary locations while also providing a large surface area on which to print – should it be a desired part of the project.

The client chose to take the chance to add an extra element of design to the premises, providing a tileable graphic that was to be featured throughout. The Window Film Company's in-house graphics and print team prepared each individual panel, comprising a total 25 linear metres of printed film. Care was taken to ensure that the graphics would flow seamlessly from one panel to the next, which involved allowing for a 5mm gap between each panel.
Once printed, the film was installed by a team of The Window Film Company's fitting teams with the work taking place with the minimum off disruption to what is a busy office space. The finished project saw manifestation needs met in the form of a stylish decorative addition that ran consistently through the premises, giving the office a new, professional visually impressive appearance.
For more information about manifestation legislation and how The Window Film Company can help you meet the requirements in a cost effective and stylish way, please contact a member of the team on 01494 794477 or email info@windowfilm.co.uk