STUNNING STAINED GLASS
Jul 19 2019
Stained glass window effect in Church using stained glass window film
The Window Film Company are experts in the print and installation of eye-catching graphics, using a variety of media and print methods to bring the creative ideas of our clients to bright and vibrant life. This recent example provides a perfect showcase, with a set of beautiful graphics delivering a stained-glass effect at a Guildford church.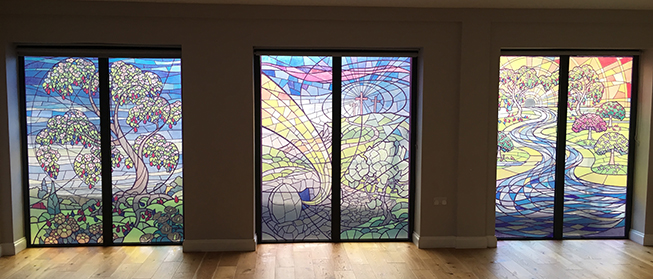 The brief was to recreate a set of custom created graphics, covering 12 large, floor to ceiling window panes with the designs, which had been specially illustrated to create a stained glass effect. The aim was to deliver an eye-catching, welcoming and inspiring display that would not only look like stained glass, but behave like it too, allowing light to shine through the glazing, illuminating the beautiful designs and projecting softly coloured light onto the floor inside.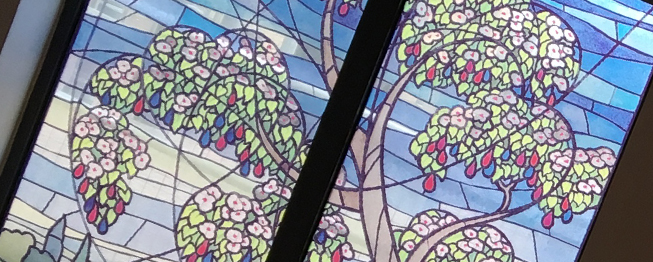 It was agreed that the best method of achieving the desired effect and outcome was to print the illustrations onto optically clear window film. This method is a popular and effective way of creating graphics; it allows for excellent levels of light transmission which was a key part of this brief, and also allows for the recreation of intricate and detailed images.
The artwork was supplied to The Window Film Company's in—house print and graphics team, who were able to set up the artwork ahead of printing. The artwork was set up in away that accounted for the 90mm gap that was present between each window pane, ensuring that when installed, the graphics would flow seamlessly from one panel to the next.
Each panel was printed using state of the art print technology before being checked and finished by hand ahead of installation.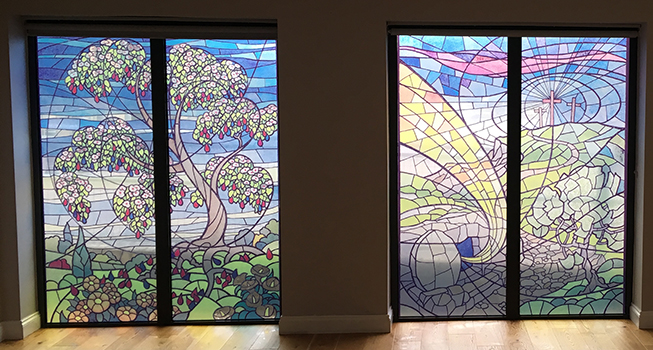 The fitting was undertaken by a team of The Window Film Company's fully qualified and vastly experienced installation teams, who were also tasked with removing an existing expanse of film from the glazing before fitting the new graphics.
Once complete, the room was totally transformed to feature the beautiful new graphics, with the artwork visible from both sides of the glass – creating a beautiful display both internally and externally. The graphics combined with the use of optically clear film allowed for sunlight to pass through the newly filmed glazing, providing the desired stained glass effect.
For more details on how The Window Film Company can bring your creative vision to life through the use of printed graphics, please call a member of the team on 01494 794477 or email info@windowfilm.co.uk.