GLORIOUSLY GRADUATED
Jul 26 2019
Stylish window graphics and graduated frosted window film installation
By using state of the art print technology, top quality materials and a wealth of experience, The Window Film Company are experts in delivering eye—catching and stylish graphics, used to give premises a professional and memorable appearance. This recent project, an installation at a London hotel, provides a perfect example of what can be achieved.
The Window Film Company was approached to provide a solution that would deliver a number of different elements. Privacy, signage and a stunning new decorative look. It had been decided that the privacy element should be achieved with a graduated frost effect.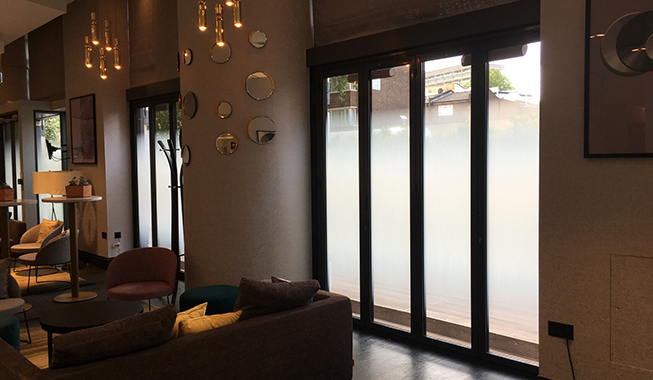 By using state of the art print technology, The Window Film Company can recreate the appearance of frosted glazing, a popular privacy solution that blocks the view from both side of the glass without sacrificing natural light. The client that a graduated effect, with the frost gradually giving way to complete transparency at the top and bottom of each pane, would deliver the necessary privacy while also creating a stylish decorative effect, in keeping with the existing upmarket décor of the hotel.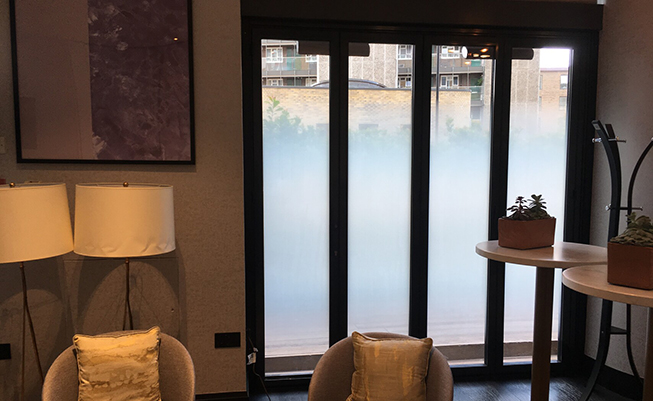 The Window Film Company's print and graphics team provided a range of samples featuring different opacities and levels of graduation, allowing the client to test the proposed graphics in situ. With the precise levels and appearance agreed, the panels could be printed. As with all printed graphics jobs, the graphics were printed in house before being finished and checked by hand to ensure each panel was absolutely perfect ahead of installation. A total of 15 panels were printed, each created to the exact size specifications provided by the client.
With the privacy and décor element of the project taken care of, the final aspect was signage for five meeting spaces within the hotel complex. The signage was required to be clear and easily legible, making it immediately apparent which room was which. Each room name was created by printing in a specified font with a particular pantone colour reference, designed to match perfectly with the existing interior scheme. The text was then precision cut, with each letter created as an individual piece of film.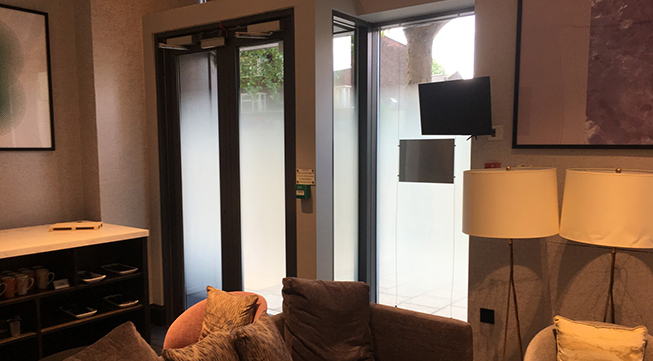 A suitable date for the installation was agreed between the client and The Window Film Company's dedicated operations team, with the work completed by a team of The Window Film Company's fully qualified and vastly experienced installers.
The completed project provided glazing throughout the property with the privacy that was required along with a subtle yet stylish new decorative look. Function room names were also clearly indicated, helping to enhance the experience of those visiting the hotel.
For more information on how The Window Film Company can help deliver on your printed graphics requirements, please contact aa member of the team by calling 01494 794477 or email info@windowfilm.co.uk