SUPERB SKYLINE
Jul 05 2019
City of Oxford skyline window film design installation
Glass and glazing continues to be a popular internal feature in the design of workspaces and offices, providing not only a stylish and sleek design feature, but also an opportunity to add a bespoke decorative flourish via the medium of printed graphics. This recent project completed by The Window Film Company is a simple but hugely effective example.
The owners of a business based in the historic City of Oxford had a large rectangular window as part of their office complex and had taken a decision to use it as the basis for a decorative upgrade. Due to their location in one of most England's most famous cities, it was decided that the new feature would be a representation of the Oxford skyline. The Window Film Company was approached to come up with a suitable solution.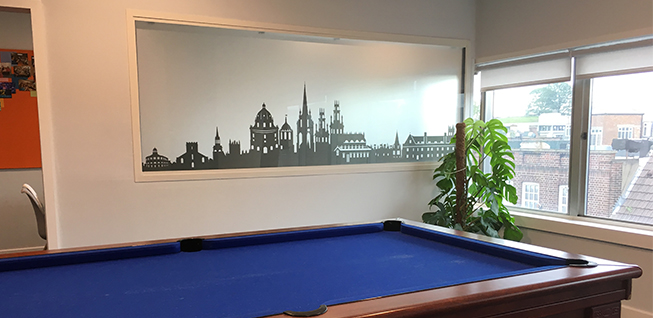 Having got a full understanding of the brief and window location, it was agreed that the best finish would be delivered by printing onto Frostbrite frosted window film. Frostbrite is a long lasting and durable film that when applied gives glazing the appearance of acid-etched or sandblasted glass, blocking the view from both sides of the glazing while still allowing excellent levels of light to pass through the pane – exactly as traditional (and significantly more expensive!) frosted glass would behave. Frostbrite also provides the perfect surface on which to print, allowing for the creation off bespoke printed graphics and unique, eye-catching designs.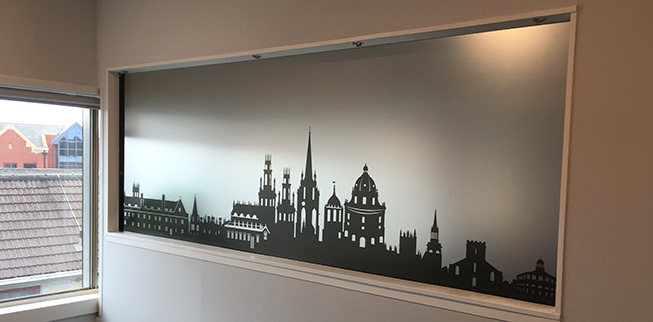 The client was able to supply the artwork, comprising the Oxford city skyline. This was printed onto a panel of Frostbrite by The Window Film Company's dedicated print and graphics team, using state of the art print technology for a perfect, pin sharp reproduction of the design.
The panel was computer cut to the exact size specifications required by the client and checked by hand before being installed by a team of The Window Film Company's fully qualified and vastly experienced fitting teams. The end product was a completely transformed window, delivering privacy as well as a stylish and aesthetically pleasing new decorative feature for the office, with the custom created artwork visible on both sides of the glazing.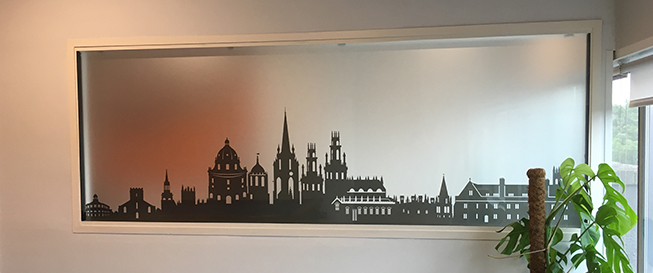 The Window Film Company has been delivering wide format printed graphics for both internal and external use since 1998, so if you have a requirement for graphics of any kind, whether it be for signage, display, branding or a new look for your premises, please get in touch for help, advice, a quote or samples. Give a friendly member of our team a call on 01494 794477 or email info@windowfilm.co.uk.