PRIVACY, BRANDING AND DECOR
Mar 29 2019
Branded window film privacy for office glass partitions
For retail outlets, portraying the right image is of huge importance. For a company specialising in luxury jewellery and watches, it's an absolute necessity. When such a company required a solution that delivered privacy and style, they turned to The Window Film Company.
Based in the world-famous Hatton Garden area of London, Hatton Jewellers specialise in fine jewellery and watches. The premises feature a number of glass partitions and windows that needed a privacy solution and it was decided that this solution should also deliver a brand-lead new look. The final aspect of the project was a need to meet manifestation regulations. The nature of the business meant that every aspect of the project needed to look stylish, impressive and highly professional.
Manifestation is required on glass partitions or other full-length glazing, essentially in order to make it clearly visible and avoid accidents. Building regulations dictate that markings must provide a contrasting appearance to the background and need to be at two separate heights. Frostbrite frosted window film from The Window Film Company is a popular choice for meeting these requirements for a number of reasons, perfectly illustrated by this project.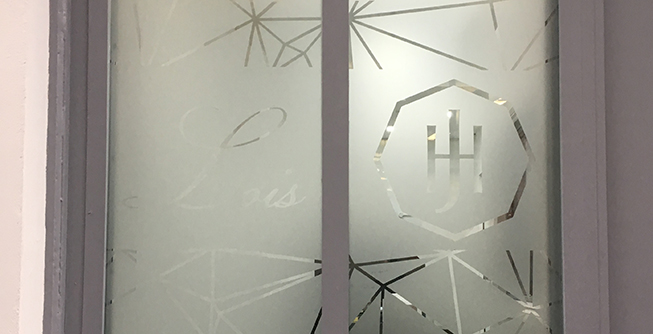 Firstly, once applied, Frostbrite frosted window film gives standard glazing the appearance of acid etched or sandblasted glass. This provides the contrast necessary for manifestation, but also delivers a stylish privacy solution, blocking the view from both sides of the glass without sacrificing natural light.
Secondly, the film can be printed on or computer cut to create custom graphics. In this case both techniques would be used, with the company logo and name printed directly onto the film for application to a number of panes, and a stylish brand-lead design cut from the film to provide a striking decorative effect throughout the premises.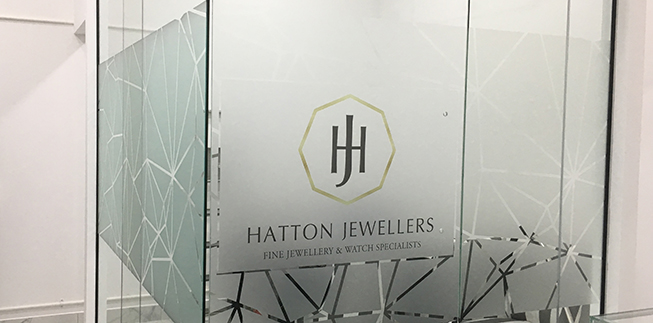 The film was printed and cut by The Window Film Company's in-house print and graphics team, utilising state of the art printing and cutting technology to deliver the perfect finish. Each piece of film was finished and checked by hand, before being installed by a team of The Window Film Company's fully qualified and vastly experienced installers.
As the images show, the end result was a stylish, dynamic appearance, with the film delivering on privacy and manifestation requirements while also providing the requisite privacy.
For more information on how The Window Film Company can help meet your manifestation, branding and decorative needs with window film and printed graphics, please call a member of our team on 01494 794477 or email info@windowfilm.co.uk