WALLPAPER: THE WAY FORWARD
Mar 08 2019
Office branding using digitally printed wallpaper
Printed graphics from The Window Film Company are the perfect way of delivering an eye-catching, professional and memorable office branding project. By using specialist digital wallpaper it's possible to add bespoke designs to walls and other flat surfaces – an opportunity seized by an International automotive company based in Leamington.
Audatex operate in 85 countries and carry out 11 transactions every second and wanted to ensure that the interior of their Midlands office reflected their size, professionalism and stature. They wanted to achieve this by adding a collection of branded elements and associated text to a 2.5 metre section of wall. The Window Film Company was approached for a solution.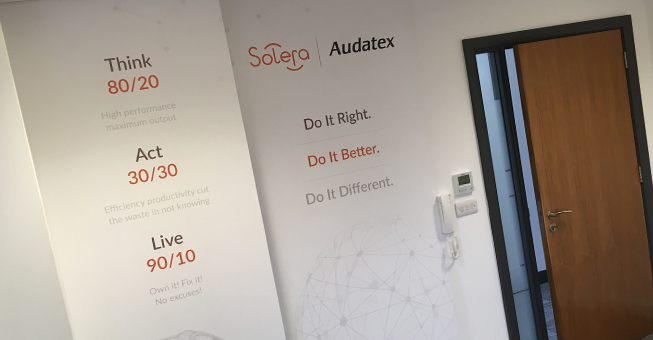 With an understanding of the brief, digital wallpaper was the suggested product. Starting life as a plain white product, this specially developed material can be printed in full colour and applied to virtually any flat surface, providing the ideal way of adding unique design and style to walls and traditionally neglected surfaces such as doors and cupboards. Digital wallpaper is long lasting and durable, making it the perfect option for use in high traffic areas such as corridors and reception areas.
The client was able to supply the exact sizes of the areas to be covered as well as the custom created artwork, allowing The Window Film Company's in-house print and graphics team to create an accurate proof for sign off. With this agreed, production could commence, with the wallpaper printed on one of The Window Film Company's state of the art wide format printers.
While the graphics were being created, The Window Film Company's operations team liaised with the client to organize an appropriate install date, working together to ensure the work was carried out at a time and date most suited to the customer, as well as identifying dealing with any logistical issues and challenges.

The work was then carried out on the agreed date by a team of The Window Film Company's fully qualified and hugely experienced installation teams. Once fitted, the stylish graphics provided the office with a smart, stylish look that is certain to impress visitors, while also providing a welcoming, comfortable and enjoyable environment for staff to work in each day.
For more information about how The Window Film Film Company can print and install printed graphics for your office, shop or other premises, please call a member of our team on 01494 794477 or email info@windowfilm.co.uk.