NEW GRAPHICS NEW LOOK
May 10 2019
Branded graphics, bespoke wallpaper and bespoke glass manifestation install
Appearance is an important consideration for commercial properties, with the look and feel of an office or showroom a key component in portraying a professional image and giving customers and visitors the confidence to purchase or do business. As experts in the creation and installation of printed graphics, The Window Film Company are perfectly placed to deliver a brand new look for walls and glazing.
This project saw The Window Film Company engaged to carry out a series of brand-lead decorative upgrades at a Buckinghamshire office.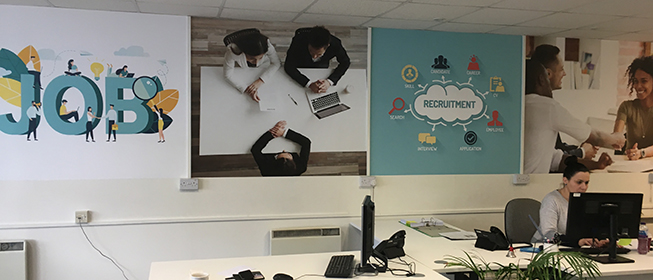 The job consisted of three main elements. The application of graphics to the glass frontage, the fitting of branded, bespoke wallpaper to a number of walls throughout the premises and finally, the application of manifestation dots.
The manifestation markings were required as part of building regulations, which require glass of a certain size too feature markings that make the glazing clearly visible. These markings have to provide a clear contrast between the glass and the background, with Frostbrite frosted film the most appropriate way of achieving this. Once applied the film gives glazing the appearance of acid etched or sandblasted glass, delivering the necessary contrast.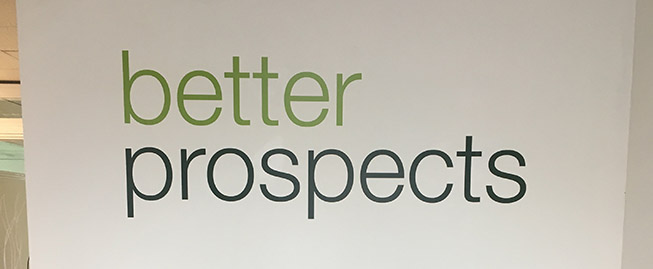 The main body of the work however, was printed graphics.
The glazing at the front of the premises was adorned with a large printed band, featuring the business name across the top of the pane. This was achieved by printing the text onto Frostbrite frosted film and backing it in white, to ensure it was bright, vibrant and clearly visible from the outside.
Inside, the walls were decorated with custom created digital wallpaper, with the bespoke graphics installed in the reception area and throughout the main body of the office.
Each part of the project was printed in-house by the Window Film Company's print and graphics team, using state of the art print technology to deliver a perfect reproduction of the graphics that had been supplied by the client. The installation was then undertaken by a team of The Window Film Company's fully qualified and hugely experienced fitting teams.

The end product delivered a stylish, professional and welcoming new look for the office – adding new elements of colour and interest, and an eye-catching and impressive overall look.
For more details on how The Window Film Company can create and install printed graphics for your office, please call a mamber of the team on 01494 794477 or email info@windowfilm.co.uk.