SET FOR SUMMER WITH SILVER
May 17 2019
Silver solar control window film installation for reducing excess heat build up
The Window Film Company have been offering solar control solutions since being founded in 1998. In offering a range of high-performance films, it's possible to deliver an effective and stylish, aesthetically pleasing answer to excess heat in both commercial and residential settings.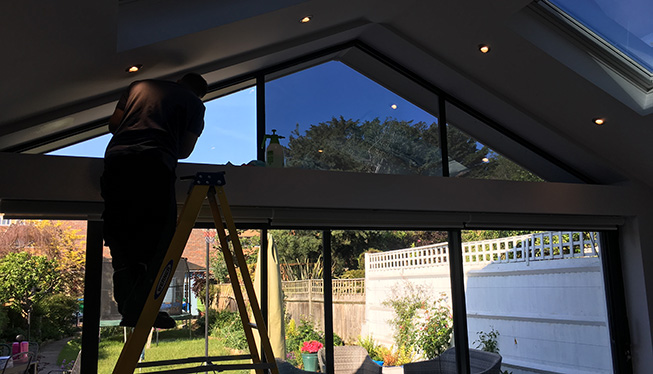 This installation illustrates how effective solar control window film can be in the home. Contacted by the owner of a property that enjoyed incredible natural light and views thanks to an expanse of glazing, but also experienced uncomfortable excess heat during warm spells, The Window Film Company was able to suggest High Reflective Silver as the most suitable product.
High Reflective Silver is a high-performance product, designed specifically to deliver excellent solar control while also allowing for excellent natural light transmission and preserving the view form the inside out – a vital consideration for a residential property.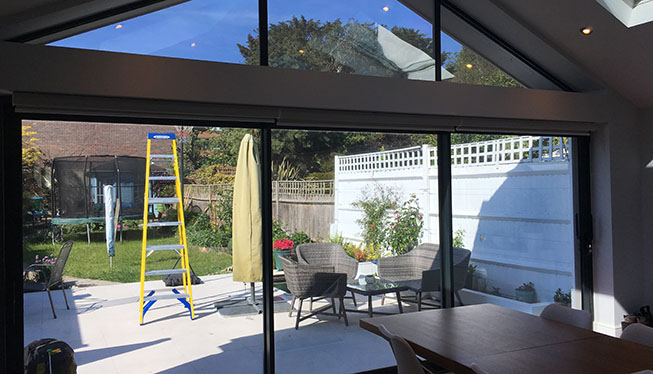 Solar control window film provides a far more effective solution than more traditional methods such as curtains or blinds. When using these options to try and reduce heat, not only is the view and natural light blocked, they are also less useful for this purpose; as they are set back from the glazing, they allow heat to enter a premises. Window film is applied to the internal face of the glass (external grade films are available should an internal fitting not be possible) and the reflective appearance bounces away a percentage of he sun's energy before it can pass though the glass, stopping the steady build up of excess heat without making the interior feel cold, blocking the view or sacrificing natural light.
The film was installed by a team of The Window Film company's fully qualified and vastly experienced fitting teams, delivering a perfect finish with the minimum of fuss or disruption. Once in place, the film was effective immediately, delivering a more comfortable internal environment and a sleek, aesthetic appearance in keeping with the look of the stylish property.
For more information on the range of solar control films supplied and installed by The Window Film Company, please contact a member of the team on 01494 794477 or email info@windowfilm.co.uk