IT WAS ALL YELLOW
May 24 2019
Brighten up your environment with coloured window film
An application of window film can completely transform not just the look of glazing, but can add a whole new look and feel to premises. A perfect example was this project in London, involving the application of a vibrant yellow rainbow film to glazing throughout a modern office.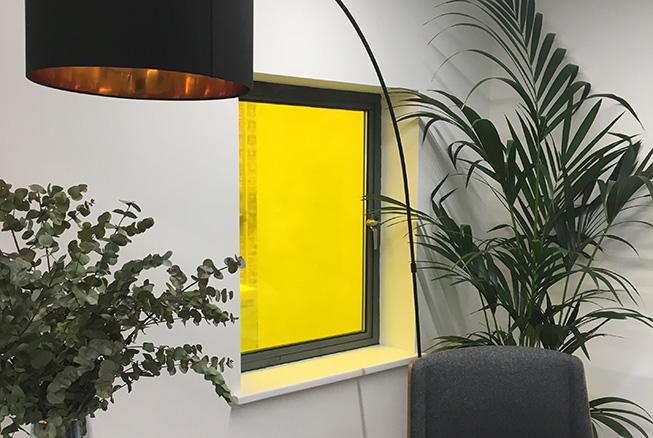 It's likely that glass provides more decorative opportunities than you might imagine. Printed graphics, branded elements, text and other design components can be printed onto a range of materials and applied to glass to deliver striking displays, signage or decorative upgrades. These techniques are often utilised in commercial settings such as retail outlets or as part of office fit-outs, and while they deliver incredible results, it's possible to create eye-catching and memorable results without the need for bespoke designs or graphics.
Rainbow window film from The Window Film Company is available in a range of vibrant shades and is designed to be retro-fitted to glass, instantly transforming the appearance of the pane without blocking the view or sacrificing natural light. It's possible to use different colours to create a stained glass effect, while using a single colour – as illustrated by this project – can deliver a bold, bright and stylish statement.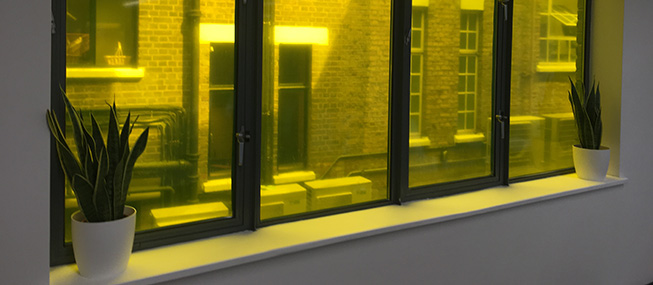 The colour chosen by the client was Mid Yellow and was applied to five panes of differing sizes throughout the premises. The film was applied by a team of The Window Film Company's fully qualified and vastly experienced fitters, who were able to complete the project with the minimum of fuss and disruption.
The end result was a completely changed and enhanced internal environment, with the yellow colour delivering a bright and vibrant feel throughout the office, making it an enjoyable space to be in for both staff and visitors. The colour was achieved while maintaining the view inside and out and can be replaced if the need o desire for a new colour or alternative type of glass decoration arises.
For more information about our range of rainbow window film, or for more details on how The Window Film Company can help with your glass decoration or office branding project using bespoke printed graphics, please contact a member of the team by calling 01494 794477 or email info@windowfilm.co.uk.