GLORIOUS GRADUATION
Nov 01 2019
Printed graphics featuring graduated frost effect for Berkshire office
The Window Film Company are industry leaders in not just the supply and install of window film, but also the custom creation and fitting of printed graphics. All graphics are created by our in-house print and graphics team, meaning the ability to deliver solutions made to match client's specific requirements.
This graphics project provides the perfect example of a collaborative approach. Following the building and opening of a large new office complex in Berkshire, it was agreed that an application of window film to a number of the extensive glass partitions was required, for decorative, privacy and manifestation purposes.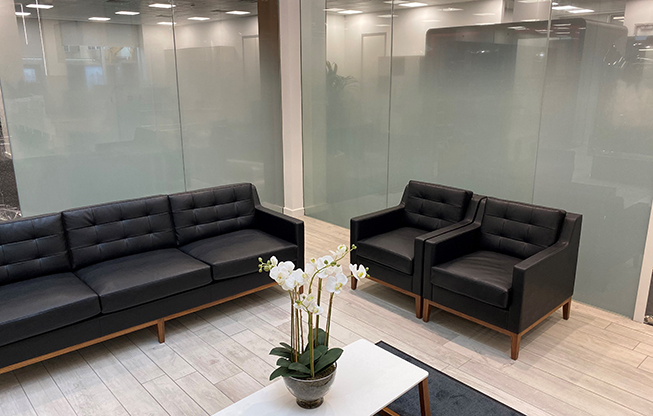 Manifestation markings are required to make glass clearly visible, and while they are required by law, they are particularly important in locations such as this, with large expanses of glass partitioning and full height glass doors throughout. Legislation dictates that markings must be of a minimum size and feature and specific points on the glass, but apart from these requirements, manifestation can take on virtually any appearance, providing an excellent opportunity to add a decorative flourish to glass. That's exactly what was required in this situation, with a frosting with a graduated fade effect the desired look.
After receiving the brief, it was agreed that the best way of achieving the desired appearance (which was designed to also deliver an element of privacy without blocking the view entirely) would be to print the frost effect onto an optically clear window film, with the opacity of the print gradually changing as it moves up the panel, until eventually the film features no print and is clear. By covering the whole panel in film, a visible join could be avoided and a seamless effect delivered.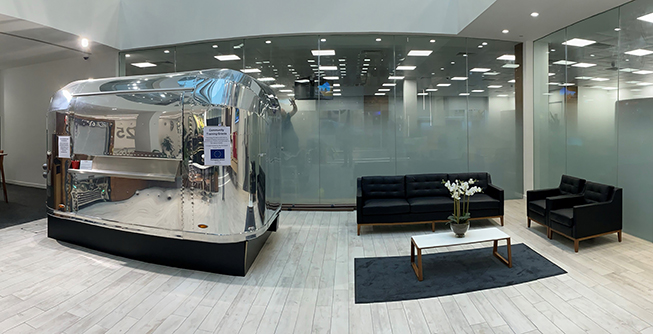 To achieve the graduated fade effect, The Window Film Company's graphics team experimented with various opacities and different colour levels, providing samples of each suggested finish to the client for feedback and approval. This process allowed the customer to ask for minor alterations and changes, working together to achieve the exact look that was required. With the correct appearance and finish agreed upon, the film could be printed.
The project required the creation of 117 large panels, each at well over two metres in height. The width of each panel varied, but the artwork was created to ensure that the pattern ran seamlessly from one panel to the next, with no visible disruption.
With the film printed and checked, installation could take place – a job that was successfully completed by a team of The Window Film Company's fully qualified and vastly experienced fitting teams. Once complete, the glass was transformed to meet manifestation requirements, deliver an element of privacy and to give the entire area a stylish, professional and welcoming new look.
For more details on how The Window Film Company can create custom made graphics made to meet your speciffic requirements, please contact a member of the team by calling 01494 794477 or email info@windowfilm.co.uk.