PRINTED PICTURE PERFECT
Nov 29 2019
Printed Graphics and Privacy solution printed and installed by The Window Film Company for a Northamptonshire office.
Glass is a popular material in offices and workplaces for a good reason. They allow for a view, they look sleek and professional and if they are external facing, they allow for excellent levels of natural light. Sometimes however the vision afforded by windows isn't necessary, and a privacy solution is sought. The Window Film Company can provide an immediately effective answer, with the added benefit of it being completely bespoke.

Frostbrite is a high-quality frosted window film that when applied to the glass, transforms the appearance to look like acid-etched or sandblasted glazing. This not only gives windows a contemporary, stylish look, but also serves to block the view from either side, while still allowing light to pass through. The film also provides the perfect surface on which to print graphics, providing a functional yet stylish and bespoke answer to privacy. This was the chosen technique for a Northamptonshire based office, who wanted to block the view through a number of internal windows.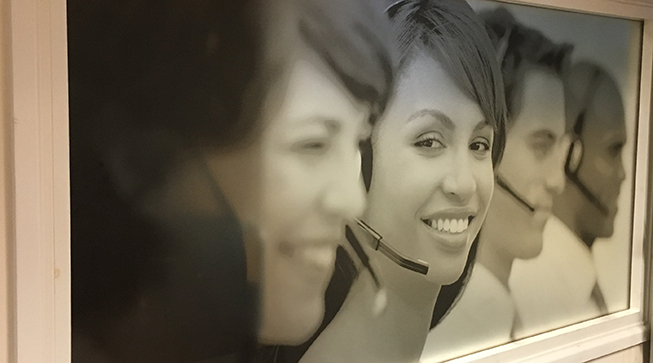 It was agreed that printing a number of black and white photographs onto Frostbrite would deliver the desired effect, with the client already in possession of the images they wanted to feature. These were sent to The Window Film Company's in-house graphics and print team, along with the dimensions of each of the five large windows that were to be filmed.
Upon receipt of the artwork and the dimensions, the graphics team were able to provide samples and a proof to the client, before commencing the print and cutting process. With the material, the finish and the proof signed off, each of the five panels was printed using state of the art, wide format print technology, before being finished and checked by hand ahead of installation.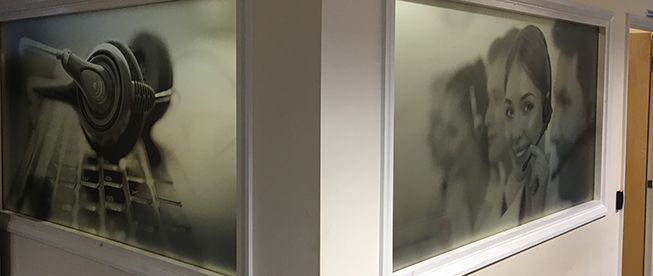 The fitting took place on a date agreed between the client and The Window Film Company's operations team, with the work completed by a team of The Window Film Company's fully qualified and vastly experienced installers. The finished project gave the office an eye-catching new look while also delivering the necessary privacy.
For more details on how The Window Film Company can print and install custom created graphics to meet your privacy requirements and to give your workplace a brand new and easy to achieve new look, please contact a member of our team by calling 01494 794477 or email info@windowfilm.co.uk.