MANIFESTATION, PRIVACY AND BRANDING
Oct 11 2019
Frostbrite from The Window Film Company is a stylish and durable addition to glass, that can be used in a number of situations. This project saw the film utilised in three different ways, to deliver multiple solutions with one cost effective installation.
Manifestation markings are required as part of building regulations and are usually needed on floor to ceiling glass such as glazed doors and glass partitions. Simply put, the markings are required to make glass easily visible and to stop avoidable and potentially dangerous accidents.
The markings are required at certain points on the glass and must deliver an appearance that provides a contrast between the marking and the background. The manifestation must also be of a minimum size, but apart form these stipulations, manifestation can take on any appearance, giving property owners the chance to get creative with manifestation requirements.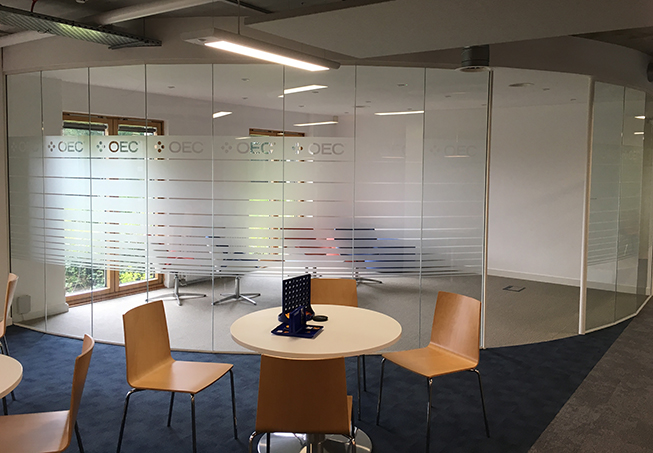 For this particular project the client decided to use the need for manifestation to deliver two other elements; privacy and branding. The brief was to create manifestation markings that would deliver some privacy whilst also incorporating the company logo. Upon receipt of the brief, an Account Manager from The Window Film Company was able to suggest cut Frostbrite frosted window film as the solution.
Once applied to glass, Frostbrite gives glazing the classic appearance of acid etched or sandblasted glass. This makes it perfect for delivering on manifestation markings, providing the necessary contrast in a stylish and contemporary way. Frostbrite can also be computer cut to create unique, bespoke designs and it was this method that was employed to deliver the appearance required by the client.

The privacy and manifestation need was met my computer cutting several different sized strips of Frostbrite, to be installed horizontally across the length of the glass. The strips were carefully designed to provide both a stylish look and an element of privacy, without blocking the view completely. The branding element was delivered by cutting a repeat pattern comprising the company logo from the top strip of film.
The work was all carried out by The Window Film Company's in-house print and design team, using state of the art computer cutting technology to ensure a perfect finish for each part of the job.
Installation was undertaken by one of The Window Film Company's fully qualified and experienced fitting teams, who were able to complete the installation with the minimum off fuss and disruption. Thee end product was a manifestation solution that also gave an element of privacy while also delivering a unique, brand focused appearance to the glass.
For details on how The Window Film Company can help you get creative with your manifestation needs, or for details on any of the other products and services offered by The Window Film Company, please contact a member of the team by calling 01494 794477 or email info@windowfilm.co.uk.