MEDIUM REFLECTIVE - HIGH PERFORMANCE
Oct 25 2019
Solar control and glare reduction window film for flats in Oxfordshire
Striking the balance between aesthetics and performance is important. That's why The Window Film Company stocks and installs an extensive range of products, including a wide range of solar control options, suitable for reducing heat in either residential or commercial settings.
This project required an application of heat reduction film to floor to ceiling glazing in two separate flats in Oxford. The glazing comprised almost the entirety of one wall in each of the properties, and as such heat build-up was a serious problem, with glare also a consideration.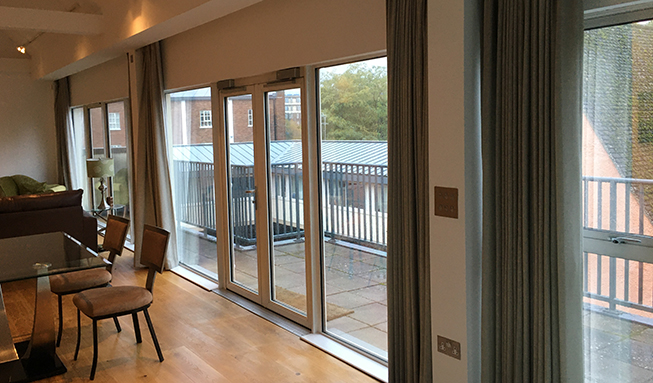 Excess heat occurs when solar energy is allowed to pass unchecked through glass, steadily adding to the internal temperature. The greater the number of windows or the bigger the size of the panes, the more acute the problem can be. While the heat issue isn't felt so keenly during cooler months, glare can be a year-round problem. The sun is clearly brighter during the summer, but in the winter months, the lower lying position of the sun can cause just as much discomfort, making it hard to focus on screens or reading. All too often, both issues would be tackled by drawing curtains or blinds, an ineffective solution that also blocks the view and light. Solar control window film delivers effective performance without ruining the view or sacrificing natural light.
For this installation, a solution was sought that would have a moderate impact on the external appearance of the glass. The majority of solar control window films give the outside of the glass a mirrored appearance, with the reflective properties serving to bounce away a percentage of solar energy before it can pass through the glass and add to the internal temperature.
Medium Reflective Silver is a high-performance window film, with a slightly less reflective external appearance. Once applied, the film will reject up to 67% of solar energy, while also reducing glare by around 65%. This film also filters out 99% of the sun's potentially harmful UV rays – one of the primary causes of fading. Samples of the film were supplied to the client to assess suitability, allowing the opportunity to see the film in situ and to experience how it works and appears in differing light conditions and at different times of day.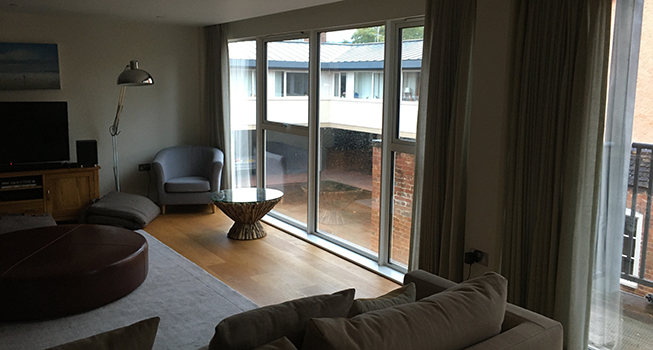 It was agreed that the film would be suitable, striking the perfect balance between performance and appearance, maintaining the view and allowing excellent levels of natural light to pass through the glass while also providing year-round glare reduction and effective solar control.
The film was installed by one of The Window Film Company's fully qualified and experienced fitting teams, applying film to the inside face of 32 floor to ceiling panes across the two properties.
For more details on how The Window Film Company can assist with your solar control or glare reduction needs with an application of window film, please call a member of the team on 01494 7944477 or email info@windowfilm.co.uk.