SCHOOL SHIELDS
Sep 13 2019
Bespoke cut printed graphics, printed and installed for a school in Berkshire
The internal appearance of a premises is an increasingly important consideration. The look and feel of a building can dictate the ambience and atmosphere, in turn serving to create a welcoming and inspiring environment.
This is especially key in places such as Schools and Colleges, with an environment conducive to learning of paramount importance.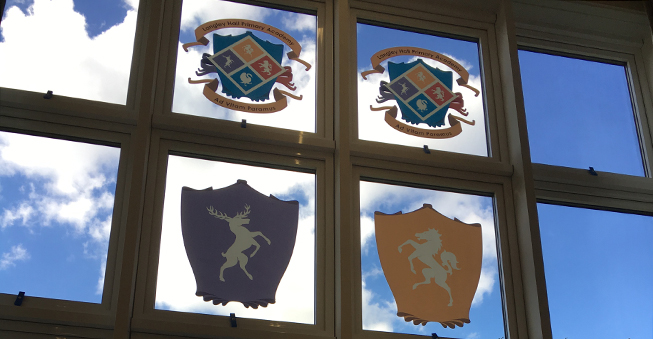 This project required the recreation of a number of colourful crests and text and their addition to a number of panes in one of the school buildings. The school was able to supply the artwork, allowing an Account Manager to talk with The Window Film Company's in-house print and graphics team to agree on the best solution.
It was agreed that the optimum way to meet the brief of a bright and vibrant reproduction of the custom graphics was to print them in full colour onto optically clear window film. As the name suggests, optically clear film is a completely transparent film, virtually undetectable by the naked once installed. It also provides the perfect surface on which to print, allowing for the reproduction of even the most intricate of designs in crystal clear, full colour.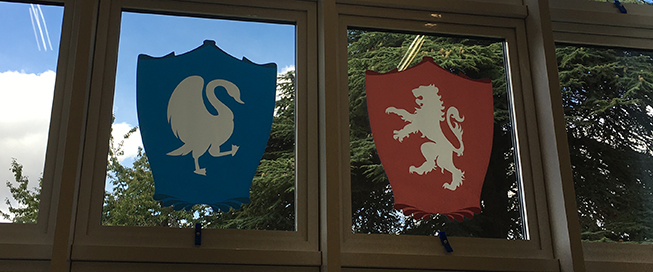 Having seen proofs and experienced samples of the proposed choice, the green light was given and production could begin. The film was printed using one of The Window Film Company's wide format printers, before being precision cut with state-of-the-art computer cutting equipment.
Each of the eight panels were checked by hand before being cleared for installation by a team of The Window Film Company's fully qualified and hugely experienced fitting teams. The installation took place outside term time to ensure there would be no disruption to the school day, with the completed install giving the glazing an interesting and engaging new look.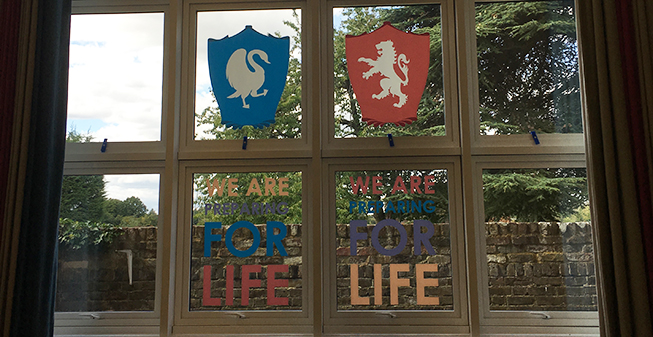 For more details on how The Window Film Company can create and install printed graphics to your windows, glass partitions or other surfaces, please contact a member of our friendly team by calling 01494 794477 or email info@windowfilm.co.uk.