HITTING THE RIGHT NOTES WITH PRINTED GRAPHICS
Sep 20 2019
Bespoke printed signage graphics for Ed Sheeran's new London bar
The Window Film Company has completed the print and installation of a bespoke set of graphics for Ed Sheeran's London restaurant "Bertie Blossoms"
The brief involved the creation of graphics for two different parts of the premises. The first element was the creation of a number of frosted elements to deliver privacy while also featuring the bar's branding. The second requirement was for the creation of circular printed graphics for use on the signage suspended above the bar.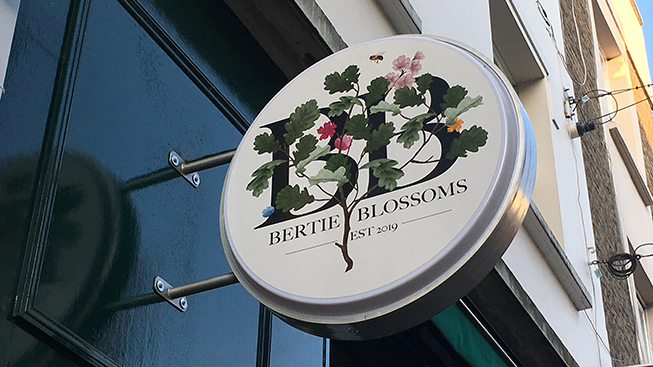 It was agreed that the privacy element would be delivered using Frostbrite frosted window film. Once applied, Frostbrite gives glazing the classic appearance of acid-etched or sandblasted glazing, creating a contemporary and stylish look while also blocking the view from both sides of the glass. The film has been specially developed to allow excellent light transmission, so while vision is blocked, premises aren't made to feel unnecessarily dark as a result.
Frostbrite also provides the perfect surface on which to print, allowing for the creation of bespoke, branded privacy solutions. On this occasion the bar's logo was printed onto the centre of three individual panels, with the custom graphics printed in a stylish shade of gold.
While the Frostbrite privacy film would be applied to the internal face of the glass, a product suitable for external usage was required for the circular sign above the entrance. It was agreed the graphics would be printed onto a white vinyl, with the tough and durable nature of the product making it ideal for a long lasting external application, with the bright white surface of the film providing the perfect background on which to print the stunning Bertie Blossoms logo.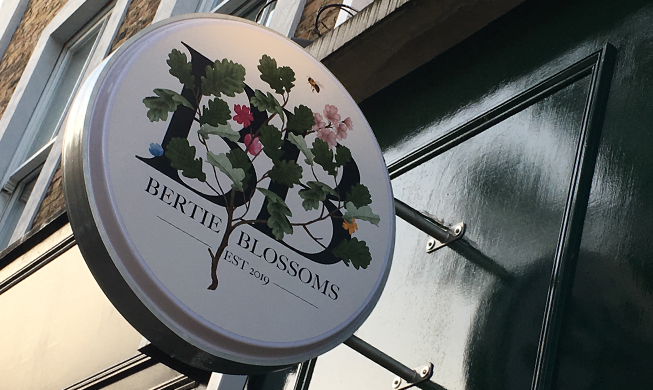 All of the graphics were printed by The Window Film Company's in-house print and graphics team, using state of the art wide-format printers to perfectly create the graphics with pinpoint accuracy and bright, vibrant colours. Each panel was then precision cut using state of the art computer cutting equipment, before being checked by hand ahead of installation.
The film was fitted by a team of The Window Film Company's fully qualified installation teams, with the completed project leaving the bar with a stylish visual identity ahead of it's official opening.
For details on how The Window Film Company can help with your signage and printed graphics requirements, or for details on the full range of products and services available, please contact a member of our team on 01494 794477 or email info@windowfilm.co.uk.