ON POINT IN OXFORD
Sep 27 2019
Printed Frostbite and coloured rainbow film in Oxford
The Window Film Company has helped completely transform the appearance of an Oxford premises with an application of two different, but equally stunning types of film.
The brief was twofold. Firstly to add an element of colour to the top panes of the glass frontage and secondly to recreate the Oxford cityscape on the bottom row of windows.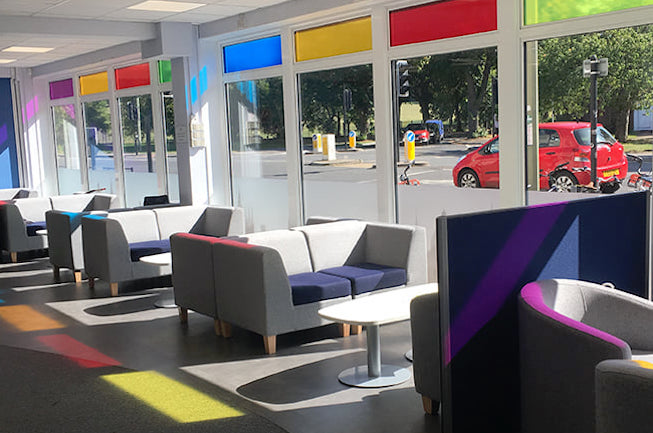 The client was able to supply a custom created illustration of the Oxford skyline, featuring key components and sights from the world-famous city. It was up to The Window Film Company to turn the design into something that would look on glass.
The suggestion was that the design be printed in white ink onto Frostbite frosted film. Once applied, Frostbite gives glass the classic look of sandblasted or acid-etched glass, providing a contemporary new look without the expense of replacement glass. The film also provides the perfect surface on which to print, allowing for the creation of bespoke printed graphics that can also be used as a privacy solution - Frostbite will block the view form both sides of the glass without sacrificing natural light.
Samples of the printed film were supplied to the client, allowing them to see the suggested solution first hand and in situ. Samples of The Window Film Company's rainbow film were also sent for consideration. Rainbow film is a simple yet hugely effective way of changing the colour of the glass, without blocking the view or light. Once installed, the glass will take on the colour of the chosen film, delivering a striking and eye-catching finish.
Both solutions were approved and work commenced on creating the printed Frostbite. This was carried out by The Window Film Company's in-house print and graphics team, using state of the art wide-format printers and computer cutting machine to ensure that the graphics were created with perfect, pin-sharp accuracy before being cut to the exact sizes needed.
Both the printed Frostbite and rainbow film were installed by a team of The Window Film Company's fully qualified and vastly experienced fitters, delivering a perfect installation with the minimum of fuss.
The completed project delivered a professional and aesthetically pleasing finish inside and out, with the look and feel of that area of the premises completely transformed for the better. For more details on how The Window Film Company can help transform the look of your glazing with printed graphics and a host of other high performance films, please contact a member of our team by calling 01494 794477 or email info@windowfilm.co.uk.