HITTING THE HEIGHTS AND REDUCING HEAT
Feb 14 2020
The Window Film Company has completed an external application of heat reduction window film at a Royal Mail delivery office in Surrey.
Excess heat can be especially bad in premises that have large windows or roof lights. Left untreated, glazing will allow solar energy to pass through the glass, meaning the internal temperature will continually rise, often becoming uncomfortable.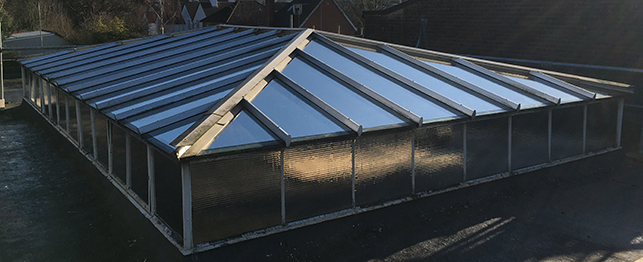 Traditional remedies include air conditioning, which is expensive and has unwanted environmental side effects, or curtains and blinds – both of which block the view and natural light. Window film will reduce the steady build up of excess heat, but does so without sacrificing natural light or the view.
The situation at this premises, a large facility in Leatherhead, was that a series of large glazed skylights were resulting in the internal temperature getting uncomfortably hot on a regular basis, and The Window Film Company was engaged to deliver an effective solution.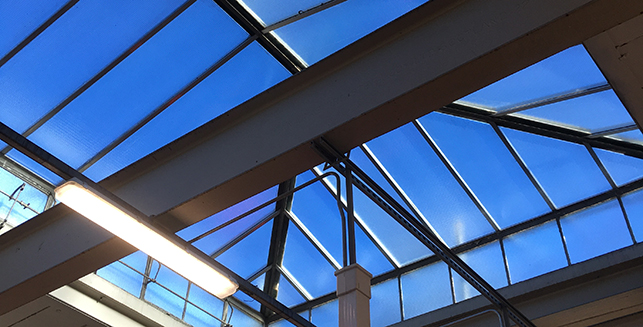 The location of the skylights meant that an internal application of window film wasn't possible, meaning that the chosen product was a specialist external grade of High Reflective Silver. The film has a reflective appearance during daylight hours, with this mirrored effect serving to bounce away a percentage of the sun's solar energy before it can pass through the glass and add to the internal temperature. This makes the film more effective than blinds which are set back from the glass, allowing the heat to pass through the glazing and simply trapping it inside.
In addition to helping to ensure a moderate internal temperature, the film delivers added benefits. Glare can be a year round issue, with sunlight passing through glass and making it uncomfortable to focus on screens or colleagues. High reflective Film reduces glare by up to 79%, while also blocking 99% of the sun's UV rays – the biggest contributing factor to fading.
The film was applied to a total of 40 sizeable panes, covering almost 40 square metres of glass. The film was applied by a team of The Window Film Company's vastly experienced and fully qualified installers, with the logistics and access equipment required for the job arranged by The Window Film Company's operations team.
With the project complete, the film was effective immediately, serving to prevent the build up of excess heat, reducing glare and slowing down fading, all without sacrificing natural light. The benefits delivered by the film made for a far more comfortable internal environment, making it a more enjoyable place to be for both visitors and employees.
For more information on the solar control solutions supplied and installed by The Window Film Company, please contact a member of our knowledgeable and helpful team by calling 01494 794477 or email info@windowfilm.co.uk.