PROFESSIONAL PRINT AND GLORIOUS GRAPHICS
Feb 21 2020
The Window Film Company has played an integral role in the redevelopment of a newly opened office space in London, printing and installing a range of bespoke graphics throughout the new facility.
By using state of the art print technology and high-quality printable media, The Window Film Company is able to create eye-catching graphics for use on virtually any surface. It's this versatility that lead The Window Film Company being engaged to provide custom created graphics for glazing, walls and cupboards throughout this large new office near Holborn in Central London.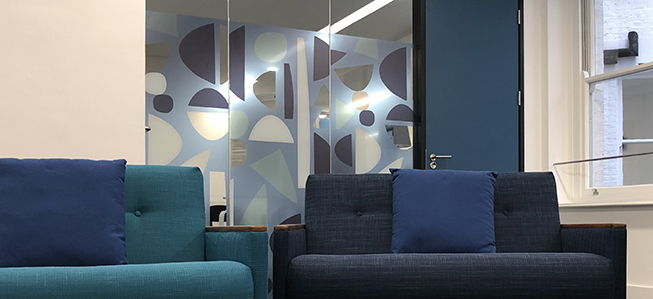 The majority of the project involved printing onto optically clear window film, creating stylish graphics that would meet manifestation requirements and ad an element of privacy, all while giving the premises a professional, on-brand and stylish appearance.
Manifestation markings are required by building regulations and are needed to ensure that glass of a certain size, usually floor to ceiling panels such as glass doors and partitions, are easily visible to the naked eye. In short, they are there to stop people walking into difficult to see glass. Regulations dictate that these markings must be of a minimum size and must provide a contrast between the glass and the wall behind it. As long as these stipulations are met, manifestation markings can take on any form, allowing building owners to be creative when meeting the requirements. This was the case with this project, with colourful brand elements recreated to meet manifestation legislation, while also providing an element of privacy for those inside.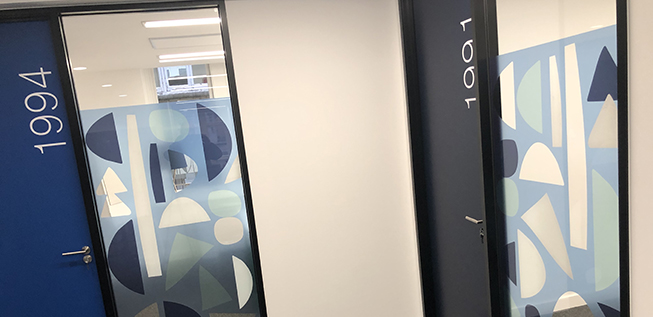 With a large number of rooms available for use within the property, clear signage was a key priority. Each of the rooms was named after a year, so The Window Film Company created signage for the door of each room, with each year cut from white vinyl and applied vertically to each door.
The final example of the versatility of printed graphics came with the print and application of vinyl to a number of cupboard doors, turning previously difficult to decorate surfaces into an integral part of the interior design.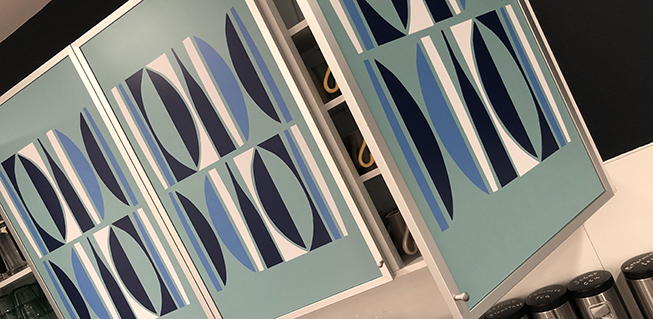 Every part of the project was printed, cut, prepared and checked in-house, by The Window Film Company's print and graphics team, before being installed by a team of the Company's fully qualified and extensively experienced fitting teams. The work was undertaken and completed at a date agreed between the client and The Window Film Company's operations team, ensuring that the work was completed ahead of the property officially opening for use.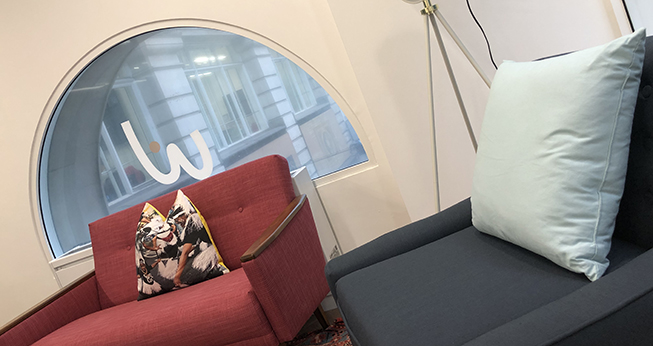 The end product was a stylish interior, with brand inspired graphics running seamlessly throughout the property, serving to deliver an impressive appearance as well as meeting manifestation requirements and providing privacy where necessary.
For details on how The Window Film Company can help with your printed graphics needs, please give a member of our team a call on 01494 794477 or email info@windowfilm.co.uk.