GRAPPLING WITH GRAFFITI
Feb 07 2020
Anti-graffiti window film protects glass from graffiti and other vandalism, making it ideal for glazing in busy, public locations. This project saw The Window Film Company fit this specialist film to over 50 large panes at a West London rail station.
The station is undergoing significant changes as part of the Crossrail redevelopment, with the work being carried out throughout the early part of 2020. An integral part of the project was the construction of a new footbridge, serving to connect the station's five platforms. The footbridge featured a large number of glass panes, and this is where the protection was required.
Exposed glass is always at risk of vandalism or damage, especially in open, busy locations (this station is estimated to have seen over 4 million travelers use it during 2019), with graffiti being a particularly prevalent problem. Whatever form the graffiti takes, spray-paint or etching, the result is a costly and time consuming clean up, with in severe cases, replacement glass required. An application of anti-graffiti window film serves to protect the glass from damage.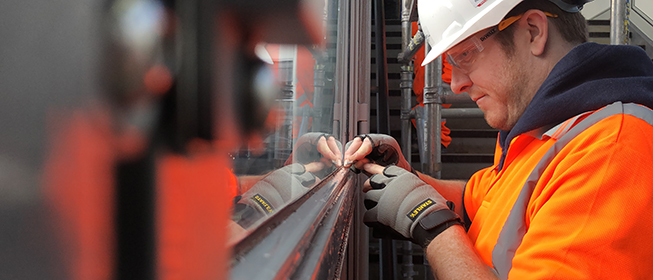 The film is transparent and once applied is completely undetectable, allowing for a perfect, unobstructed view through the window. It benefits for a specially developed coating that makes ink or paint easier to clean off, making it quicker and less labour intensive to remove ink-based graffiti, allowing or glass to be returned to it's previous appearance with the minimum of fuss.
If the graffiti is severe enough that it can't be cleaned or repaired, then the film works by providing a sacrificial barrier; the damage is done to the film instead of the glass – in turn meaning that instead of having to replace the glass in order to return it to it's unblemished state. In the event of vandalism or graffiti that can't be cleaned or removed, the film can quickly and cost-effectively be replaced.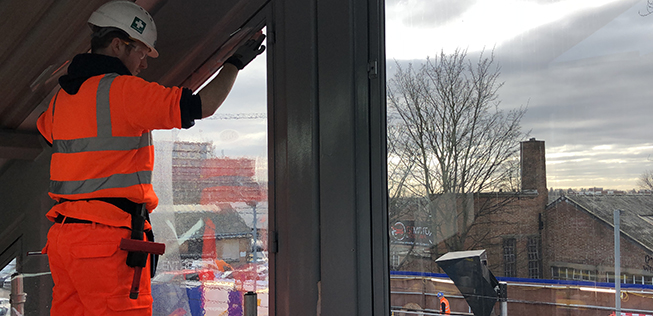 Two of The Window Film Company's fully qualified and vastly experienced fitting teams installed the film over a two-day period, with installation taking place at set hours during the day to avoid the busy rush hour period. Each piece of film was precision trimmed by hand to ensure a perfect fit, with each of the glazed panels on the new footbridge benefitting from immediate but invisible protection once the film was in place.
The nature of anti-graffiti window film from The Window Film Company means that it is suitable in a whole host of situations, where protecting the glass without changing the appearance of the glass is a key consideration. For more information about this film and details of The Window Film Company's nationwide installation service, please contact a member of the team by calling 01494 794477 or email info@windowfilm.co.uk