MAKING A MANIFESTATION MARK
Mar 13 2020
The Window Film Company has completed the installation of approximately 100 linear metres of manifestation markings at a state of the art laboratory facility.
The project was part of the fitting out of a new space at Imperial College London, a research facility at the College's White City Campus, with The Window Film Company providing a range of solutions, with the majority of the requirement being for manifestation markings.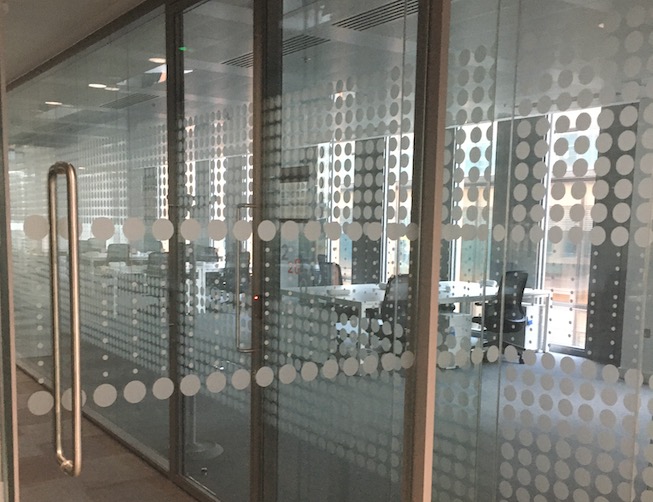 Manifestation is required under building regulations on glass of a certain size and is designed to ensure that glass is easily visible, serving to prevent accidents or injury. Manifestation markings need to be of a minimum size, must be positioned in specific locations and should provide a clear contrast between the glass and the background.
With much of the new facility featuring glass partitions and doors, a large quantity of manifestation markings were required to ensure building regulations were met. The College had decided that they wanted a dot matrix inspired design, with the manifestation to take the form of uniform, different sized circles.
After leasing with the project leaders it was agreed that the manifestation would be formed from Crystal Etch frosted window film, a product that when applied, gives glass the appearance of acid etched or sandblasted glass. The Crystal Etch version of the film provides a slightly more white finish than standard frosted film, providing a stylish, eye-catching and professional appearance.
Elsewhere, the manifestation needs were met my installing a solid band of frosted window film across the central section of the partitions and doors, not only meeting manifestation requirements but also delivering an element of privacy. The Window Film Company also provided a number of other solutions, including cut vinyl text and numbering; used to identify a number of the rooms within the facility.
Each element of the project was created by The Window Film Company's in-house print and graphics team, using state of the art computer cutting technology to ensure each piece of film was created perfectly. The different films are then fitted by a team of The Window Film Company's fully qualified and vastly experienced fitting teams.
With the project complete, the glazing throughout the new building was immediately compliant with building regulations, while also taking on a stylish and professional new look.
For more information on how The Window Film Company can meet your manifestation and printed or cut graphics needs, please contact a member of the team by calling 01494 794477 or email info@windowfilm.co.uk.