50 PANES OF GREY
Nov 20 2020
The Window Film Company offers a range of privacy solutions, ranging from daytime one-way privacy to full time blackout film. This project saw the application of a stylish grey privacy vinyl to over 65 square metres of glass.
The privacy was required at a large building conversion in Berkshire, where a former office block was being transformed into modern, fully serviced apartments. The building featured extensive glazing, with a total of 41 large panes, with each panel measuring 1.3 x 1.2 metres.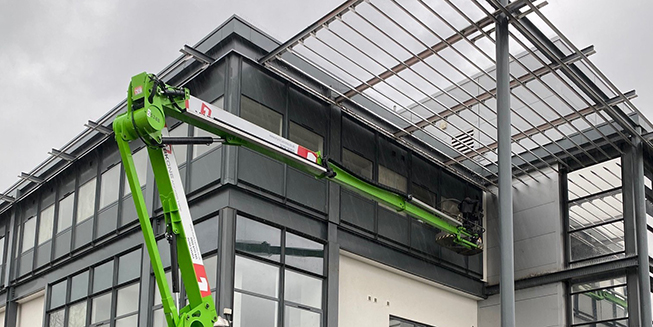 A solution was required that would provide permanent two-way privacy, while also fitting in with the aesthetic finish of the building. It would also need to be suitable for an external application, as the layout of the building meant that access to the internal side of the glazing wasn't possible.
The brief meant that the most suitable film was identified as being a solid colour vinyl. Developed to be long lasting and durable, coloured vinyl window film is suitable for an external application and serves to block the view from both sides of the glass, delivering privacy throughout both day and night. The film is also available in a range of colours, allowing for a privacy solution that matches with any aesthetic requirements.

For this project a grey coloured vinyl was chosen, decided upon as it complemented the existing appearance of the modern building, ensuring that as well as privacy, the external appearance was perfect, too.
With the material decided upon, The Window Film Company's dedicated Operations Team swung into action, liaising directly with the client on all logistical issues, including access to the glazing and a suitable date and time for the install to take place. The panes in question were over two floors, and seeing as the application was external, powered access equipment was required to access the glass. The Window Film Company's installation teams are fully qualified and PASMA certified, as well as being vastly experienced in fitting window film at height, so with all the logistical planning complete, they were able to complete the job to the high standards expected.
With the film in place, the necessary privacy was effective immediately, while the impact on the external appearance was in keeping with the desired aesthetic style.
For more details on the full range of privacy window films supplied and installed by The Window Film Company, including one-way privacy solutions for the home and office, please contact a member of our team by calling 01494 794477 or email info@windowfilm.co.uk.