GEARING UP FOR GLARE
Oct 23 2020
Glass-related issues can persist all year round. While the benefit of windows are clear and well known, left untreated, they can also result in problems such as glare and fading. Window film from The Window Film Company is an affordable and effective solution.
The Window Film Company was contacted by a company in Leicestershire, with an office that featured an extensive run of glass panels as part of the roof. While the rooflights served to provide excellent levels of natural light, they also meant that glare was an issue for many of those working inside the premises.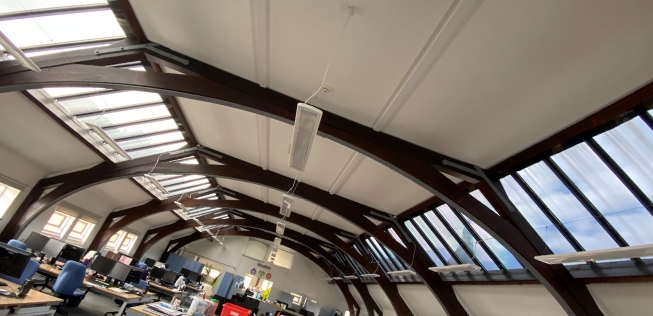 Glare is a year-round problem that can make it very difficult to work in comfort. Simply put, glare is called when bright sunlight passes through glass and into a property, and depending on the angle at which it enters, it can make it very difficult to focus on colleagues, paperwork or screens.
The Window Film Company was approached for a solution, and with a full understanding of the performance level required as well as the aesthetic considerations the client stipulated, were able to suggest Optiview 05. The Optiview range of window films is an advanced collection of solar control films, developed to deliver a number of benefits, while having a reduced impact in terms of internal appearance.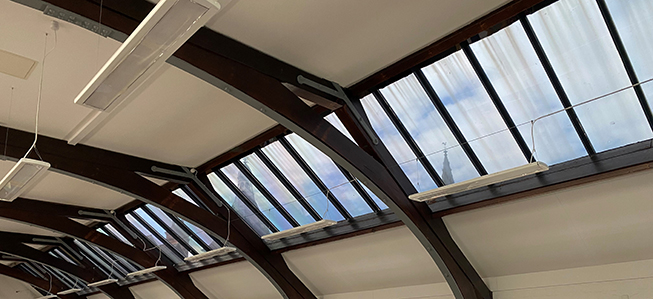 Optiview 05 will reject up to 80% of the sun's solar energy, helping to maintain a comfortable internal temperature during warmer months and will also block up to 99% of the sun's potentially harmful UV rays – the biggest single contributing factor to fade damage.
The main purpose of the film in this instance was to cut down on glare, and once installed this film reduces it by up to 91%.
The Optiview 05 window film was installed by a team of The Window Film Company's fully qualified and vastly experienced fitters across 60 panes and almost 70 square metres. The height of the glazing (set into the roof) meant that a scaffold tower was required for the installation, with The Window Film Company's dedicated operations team taking care of this and all other logistical aspects of the project.
For more information on the range of glare-reduction window films and other products supplied and installed by The Window Film Company, please contact a member of the team by calling 01494 794477 or email info@windowfilm.co.uk.