SEEING RED
Oct 09 2020
Since being founded in 1998, The Window Film Company has offered an ever-expanding range of high-quality window films, each designed to deliver a high level of performance or a striking new look. This project, an installation at an established London art gallery, certainly fell into the latter category, with an application of rainbow window film completely transforming the colour of the glass.
The Window Film Company was approached by the team at Sadie Coles HQ, a contemporary art gallery based in the Mayfair area of London. As part of an upcoming exhibition, there was a requirement for transforming the colour of a number of large expanses of glass, with the need being for a vibrant, red finish.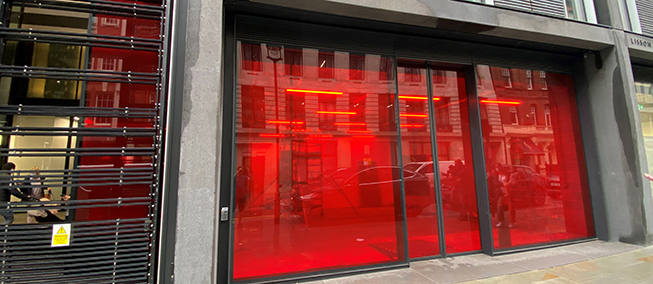 After discussions with the team at the gallery, it was agreed that a film from The Window Film Company's rainbow range of coloured films would be the most suitable choice. The film, once applied, will instantly transform the colour of the glass, while still allowing natural light to pass through the glazing, immediately transforming not only the appearance of the glass, but also the internal environment. The transparent nature of the film also means that vision is possible from both sides of the glazing.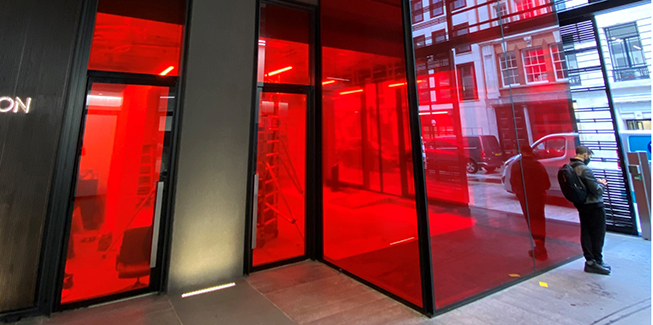 While the film will stay in situ for as long as is necessary, it can also be removed and the glass returned to it's original state with no issues – a vital consideration for a temporary transformation such as this; the film would be removed and returned to it's previous state at the end of the exhibition period.
The film was applied to a total of eleven very large panels of glass, totalling just over 90 square metres in size, with the work carried out by a team of The Window Film Company's vastly experienced and full qualified fitters. Their experience and training was vital during this installation, with much of the work being carried out at height; the sheer scale and size of the glazing meant that scaffolding was required, with all logistical issues dealt with at the planning stage but The Window Film Company's dedicated operations team.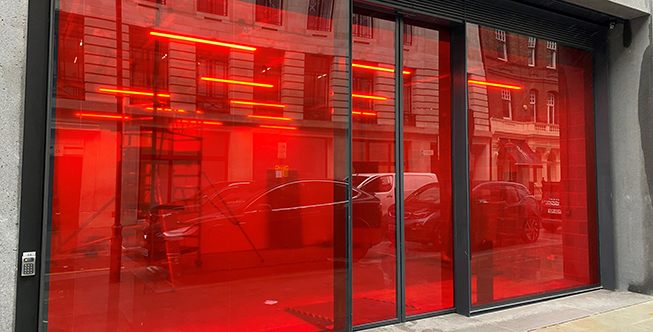 As soon as the film was installed, the glass took on a striking red colour, with light flooding through the glass and creating a red-lit interior; an important and impactful aspect of the exhibition.
For more information about the range of coloured window films supplied and installed by The Window Film Company, for details on our printed graphics offerings or to find out about the host of solar control, privacy or safety and security window films available on a supply only or fully installed basis, please contact a member of our team by calling 01494 794477 or email info@windowfilm.co.uk.