SHOPFRONT GRAPHICS AND PRIVACY
Sep 04 2020
The Window Film Company has completed a project involving the print and installation of stylish, custom created graphics to give a clothing store in London a striking new look.

It's important for shops that specialise in fashion to project a stylish appearance, so when an East London fashion boutique required a privacy solution with a striking aesthetic finish, they approached The Window Film Company to deliver.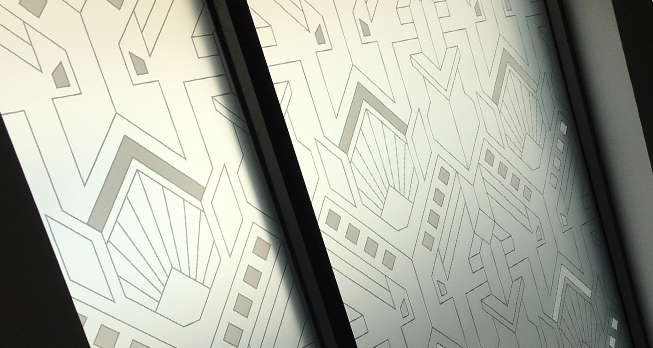 The client had an existing design that they wanted incorporated into the glass and were able to supply this, along with the sizes of the glass. The glazing comprised the front of the store, which was almost exclusively made up of full length glass, and the decision had been made to use this valuable and visible space to create an eye-catching display that would also deliver privacy.

With a full understanding of the brief, the team at The Window Film Company were able to suggest Frostbrite frosted window film as the most appropriate solution. Once applied, Frostbrite gives glazing the contemporary appearance of acid-etched or sandblasted glass, at a fraction of the cost of replacement windows. The film provides privacy, blocking the view from both sides of the glass, but it has been specially developed to allow excellent light transmission, meaning that privacy is achieved without sacrificing natural light.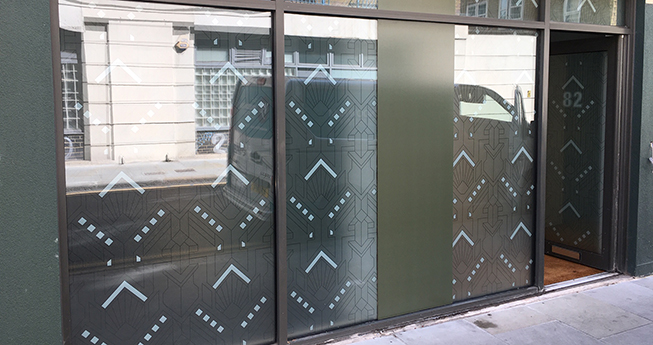 The film also provides an excellent surface on which to print. The Window Film Company has a dedicated print and graphics department, with a host of state of the art equipment at their fingertips, allowing for the perfect reproduction of even the most intricate and detailed graphics and designs.

Upon receipt of the design files and measurements, The Window Film Company's graphics team were able to provide a proof for the client, which once signed off allowed printing to commence. Each panel was printed and computer cut before being finished and checked by hand to ensure that each panel was perfect.

The graphics were then installed by a team of The Window Film Company's fully trained and qualified installers, with the working taking place on a date agreed in advance between the customer and The Window Film Company's dedicated operations team.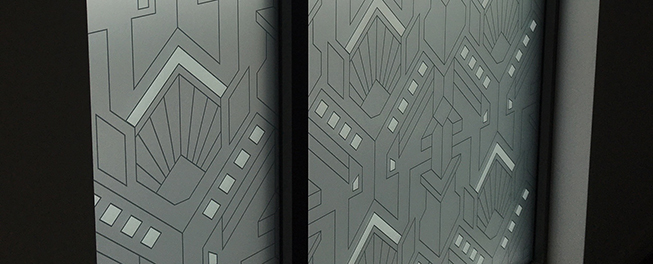 Once fitted, the film immediately delivered the necessary privacy, while also giving the premises a stylish, professional, memorable and eye-catching new look.

For more information about the privacy solutions supplied and installed by The Window Film Company, or for help and guidance on what can be achieved using custom created printed graphics - no matter the size of the job - please contact a member of the team by calling 01494 794477 or email info@windowfilm.co.uk.