LOOKING FINE WITH FROST
Aug 27 2021
Adding a logo or other branding elements to glass is a stylish and cost-effective way of giving your premises some added aesthetic flare, and thanks to The Window Film Company, it's easier than you may think.
The beauty of many of the high-quality window films used by The Window Film Company is that they provide an ideal surface on which to print. One of the most popular films for this printing onto is Frostbrite frosted film; a film which, as the name suggests, gives glazing the appearance of acid etched or sandblasted glass when applied.
Frostbrite frosted window film is a hugely popular choice as it can be used to deliver a range of solutions. Its contemporary appearance means that it is often applied to deliver a decorative flourish, while it can also be used to provide privacy in commercial and residential settings; the film will block the view from both sides of the glass without sacrificing natural light. It can also be used as a stylish way of meeting manifestation requirements.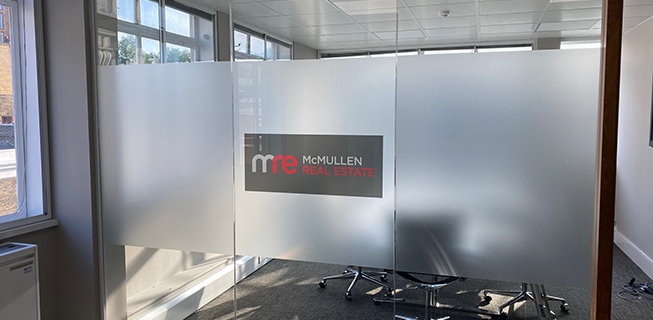 Manifestation markings are required on pieces of glass of a certain size to ensure they are visible. The markings need to be in specific locations on the glazing, effectively making sure that people can see the glass and in turn avoid walking into it! This project utilised Frostbrite for all three of these requirements; decoration (in the form of branding), privacy and manifestation.
It was agreed that a single band of Frostbrite would deliver both manifestation and a degree of privacy for this particular part of the premises. By placing the band of film running horizontally across the glazing, it met manifestation requirements (markings need to be present between 850 and 1000mm and between 1400mm and 1600mm from floor level) while also providing partial privacy. The branding element took the form of a full colour reproduction of the company logo, printed in the centre of the panel.
The logo was printed using state of the art print technology in The Window Film Company's in-house print and graphics department, before being installed by a team of our fully qualified and experienced installers. The end product was a simple yet highly effective addition to the glass, delivering a bespoke solution that met the necessary functional requirements, while also providing the premises with a professional and stylish new look.
For more information on the range of window films The Window Film Company offers for privacy and manifestation, and for more details on printed graphics for glass and other surfaces, please call a member of the team on 01494 794477.