KEEPING THE VIEW WITH CLIMATE FILM
Dec 17 2021
One of the most often asked questions about window film is "will it block my view?" The answer to this depends on the type of film; after all, some window film is designed to do exactly that. It's an important question however, especially when you are lucky enough to have a spectacular view, such as the one enjoyed by this customer.
The Window Film Company was contacted by a homeowner in West Sussex, whose property enjoyed stunning sea views. The large windows provided a beautiful panoramic vista, also serving to allow high levels of natural light into the property, making for a naturally bright internal environment. The large panes and their position did however pose a few problems; namely excess heat, glare and the potential for fading. A solution was sought that would provide protection against all three, without sacrificing the incredible view.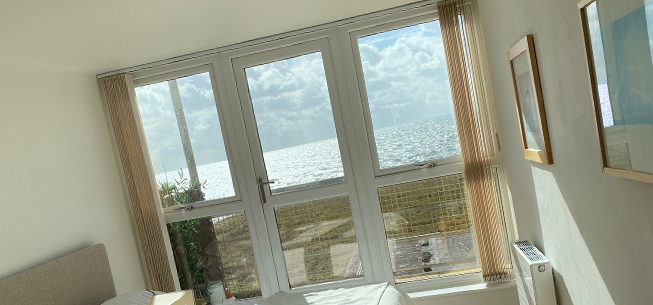 The main issue for the customer was the potential for fading. It is impossible to stop fading completely without blocking up windows – the process is caused by a number of factors; mainly comprised of heat light and UV rays. The biggest single contributing factor to fading is UV, so by reducing these levels as much as possible, the fading process can be slowed and the impact reduced. The customer wanted a film that would be effective at blocking UV while also having an impact on excess heat and glare and having a minimal impact on the appearance of the glass. After considering all these requirements, it was agreed that Climate 70 window film would be the most suitable solution.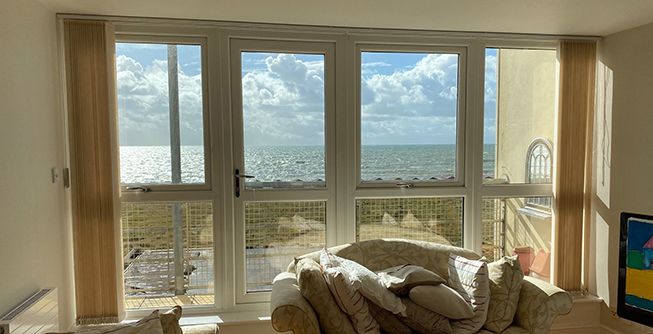 Climate 70 is the lightest of the specialist Climate range, supplied and installed nationwide by The Window Film Company. This particular film has been developed to deliver as neutral a finish as possible, while still delivering high levels of performance. It rejects 45% of excess solar energy (the lightly reflective finish bounces away a percentage of solar energy before it can pass through the glass), it reduces glare by up to 21% and crucially for this project, it blocks up to 99% of the sun's potentially harmful UV light. All of this is achieved without sacrificing natural light, or – as the pictures show – blocking the view from the inside out.
The window film was installed by a team of The Window Film company's fitting teams, with the film applied to the internal face of the glass, covering a total of 14 large panes throughout the property.
For more information on the range of specialist window films supplied and installed by The Window Film Company to help reduce fading, combat excess heat or to provide relief from glare, please call a member of the team on 01494 794477 or email info@windowfilm.co.uk.