FROSTED LOGOS BY THE WINDOW FILM COMPANY
Feb 19 2021
The Window Film Company combines high quality materials and state of the art equipment to deliver eye-catching and stylish cut graphics to transform the appearance of glass and other surfaces.
Cut graphics can be used to add branding, signage, manifestation markings or a decorative upgrade to glass, with The Window Film Company offering a range of films, finishes and techniques to deliver the graphics that are most suited to your premises and your situation.
One of the most popular products when creating cut graphics is Frostbrite frosted film. Frostbrite is a high-quality window film that has been developed to give glass the look of acid-etched or sandblasted glazing, in turn preventing the view from both sides of the glass without sacrificing natural light. These properties make Frostbrite frosted film ideal for privacy, but also for use in creating graphics.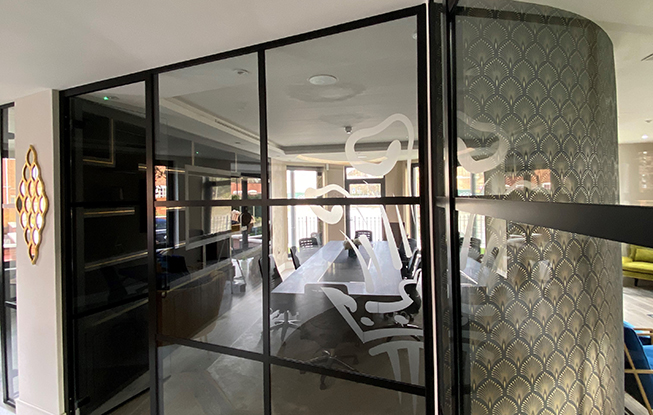 Frostbrite film can be printed onto to provide full-colour recreations of graphics, designs or illustrations, but its durability means that it can also be computer cut to create intricate logos or patterns; and this is precisely what was created for this project.
The client required cut logos for glass doors and partitions, and contacted The Window Film Company for a solution. It was agreed that Frostbrite would provide the most effective look and finish, with the film delivering the elegant look of frosted glass and the appearance of acid-etched or engraved logos.
The artwork was provided by the client, allowing The Window Film Company's print and graphics team to create a scale proof before proceeding with the creation of each logo. A total of four were created, each different in size and each created to the exact size specified by the client using state of the art computer cutting machinery. Each logo was carefully checked by hand before being despatched with a team of The Window Film Company's fully qualified installers for fitting.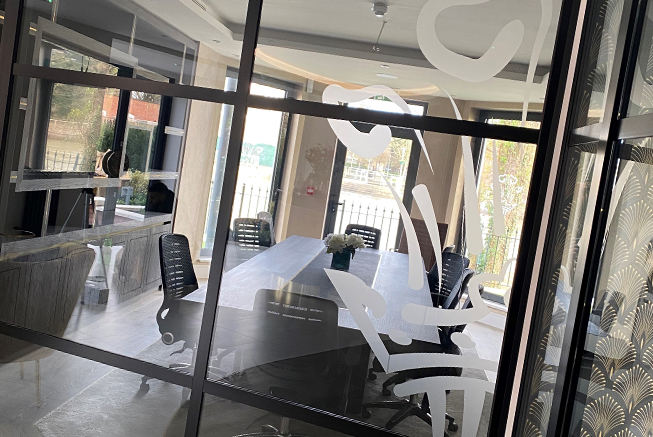 The install took place at a time and date agreed between the client and The Window Film Company's Operations Team, whose role it is to organise the logistics of each job. The film was carefully fitted by the expert installers, leaving a perfect recreation of the design throughout the stylish and spacious office.
For more information on how The Window Film Company can provide printed graphics solutions for your glass and other surfaces, please contact a member of the team by calling 01494 794477 or email info@windowfilm.co.uk.