FROSTED FILM AND FITNESS
Feb 05 2021
The Window Film Company has completed an installation of frosted privacy film on the glazing at a sought-after apartment block in Chelsea.

The work was carried out in the private gym of the exclusive Chelsea Island development, delivering the necessary privacy alongside the sleek and stylish aesthetic finish required in such a prestigious location.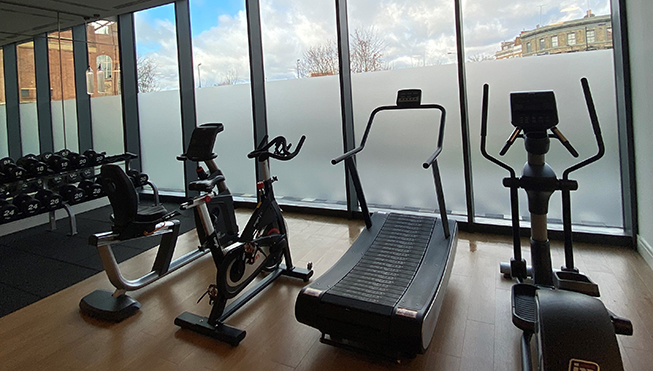 The film was required to provide users with privacy while also allowing for a view from the inside out along with excellent natural light transmission. With this in mind, The Window Film Company were able to recommend an installation of Frostbite frosted window film.

Frostbrite is a popular choice for privacy due to its versatility, durability, stylish appearance and excellent performance. Once applied, it gives glazing the appearance of acid-etched or sandblasted glass, blocking the view from both sides of the pane, while also delivering a stylish, professional looking finish.


The film is usually installed to the inside face of the glass, ensuring the longest possible functional life. It is tough and hard-wearing, the film is often used in bathrooms and shower screens, and is also easy to clean - the film can be film with standard household cleaning equipment, making it perfect for use in the gym.

The privacy film was required across seven large panes, with the film starting 50mm off the ground and reaching a height of 1.75 metres. The small gap at the bottom and the unfilled portion of glass at the top of each pane served to provide those using the gym with a view to the outside, delivering a stylish appearance, a light and airy environment and the most important aspect of all - the required privacy.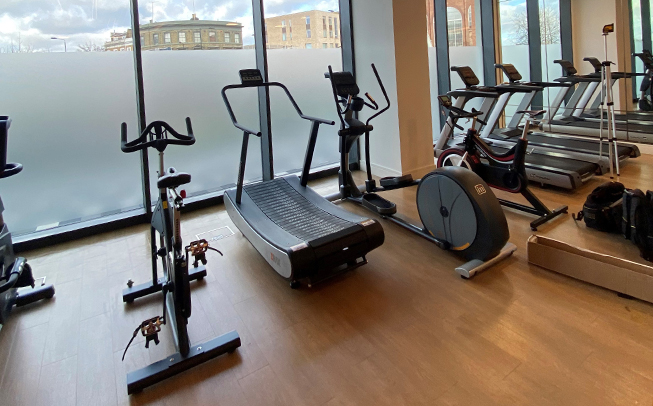 The Window Film Company's dedicated operations team worked closely with the client to agree on the most suitable date and time for the installation to take place, with the film fitted by a team of The Window Film Company's fully qualified installers, ensuring a perfect application for each of the panels.

For more information on what can be achieved with Frostbite frosted film (it can also be used to create eye-catching printed graphics and to meet manifestation requirements) please contact a member of our friendly, helpful and experienced team by calling 01494 794477 or email info@windowfilm.co.uk.