RESPLENDENT ROOFLIGHT
Jun 11 2021
No two jobs are ever the same for us at The Window Film Company, and while we are used to creating and installing eye-catching window film creations, this incredible custom graphics print and installation really captured our imagination…
The project was commissioned as part of an extensive house refurbishment, and involved the print and application of stunning bespoke graphics to a large rooflight.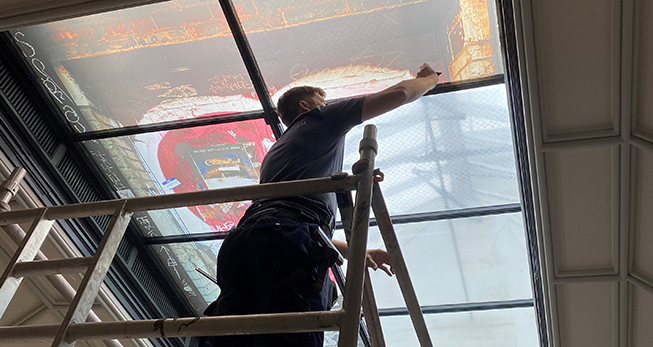 The glazing comprised 8 large panels, combining to create a large flat rooflight made up of a total of 8 square metres of glass. An initial visit allowed an expert installer from The Window Film Company to assess the glass for suitability as well as undertaking a full survey to confirm the exact sizes of each panel and the edge gap between each one.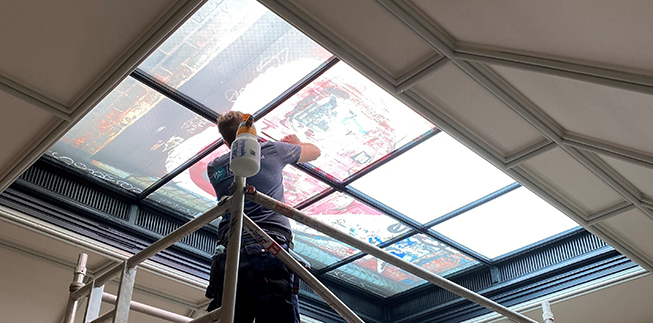 With the dimensions of the panels obtained, The Window Film Company's in-house graphics and print team were able to set out the design on each pane, taking into account the gap between each pane to ensure that the incredible pattern flowed seamlessly across the entirety of the rooflight.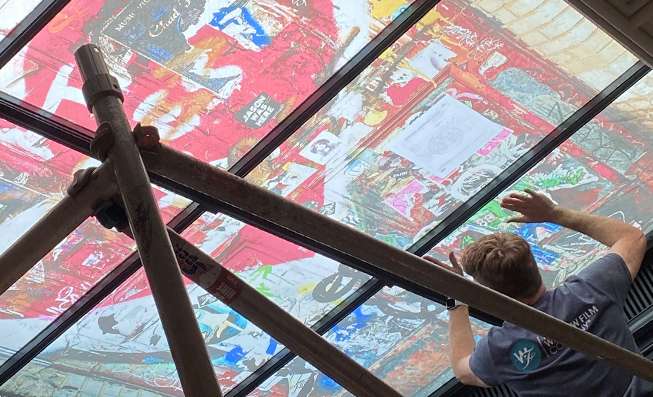 It was agreed that the most suitable film for the project would be Frostbrite frosted window film. A long lasting and durable film, Frostbrite gives glazing the appearance of acid etched or sandblasted glass, delivering privacy without sacrificing high levels of natural light. Whilst super stylish in it's untreated, standard state, Frostbrite also provides a perfect surface on which to print. Using state of the art wide-format print technology, The Window Film Company is able to recreate intricate and detailed graphics in vibrant full colour, and it's this film and process that was chosen to deliver this project.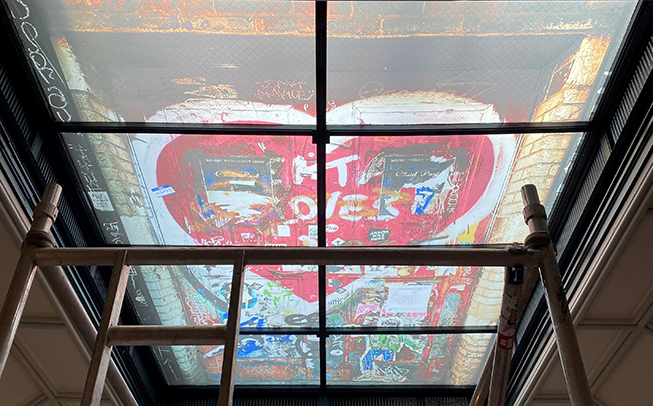 The frosted window film panels were printed then computer cut for a precision finish, before each of the eight panels was checked by hand and despatched with a team of The Window Film Company's installation teams. The nature and location of the installation meant that scaffolding was required; with logistical issues such as this handled by The Window Film Company's dedicated operations team.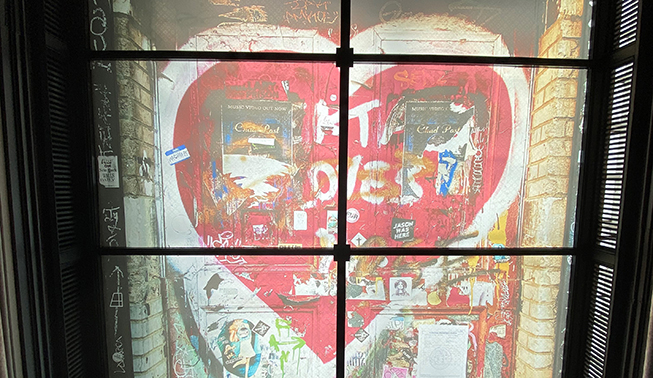 With each of the panels in place, the rooflight was totally transformed, turning standard glazing into a striking display of unique art, an integral part of the extensive internal refurbishment and interior styling.
For more information on how The Window Film Company can provide printed graphics to meet your residential or commercial requirements, please contact a member of the team by calling 01494 794477 or email info@windowfilm.co.uk.