STYLISH GRAPHICS HIT THE MANIFESTATION MARK
Jun 04 2021
The Window Film Company has completed the creation and installation of bespoke frosted graphics, applying the custom created window film to meet manifestation requirements while also adding a stylish new look.
As part of the refurbishment of an office space in Westminster, The Window Film Company was contacted to provide bespoke manifestation markings on glass across three floors, serving to meet building regulations, while also providing the glass with a decorative flourish.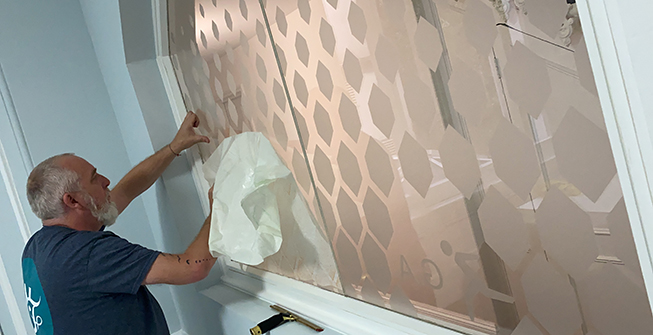 Manifestation markings are required to make glass visible, in turn serving to prevent accidents. These are required by building regulations and usually need to be applied to large panes of glass such as glass doors or partitions. While manifestation markings must be present at certain points on the glass in order to meet regulations, the markings themselves can take on almost any appearance, providing an opportunity to get creative and to give glazing a unique and impressive new look.
On this occasion, the client had created a repeated design, featuring hexagons of various sizes.
It was agreed that the design would be recreated from Frostbrite frosted window film. Frostbrite is the ideal choice for manifestation markings as it provides the necessary contrast between the glass and the background, serving the primary purpose of making the glass easily identifiable. Frostbrite can also be computer cut into any shape desired, with The Window Film Company's in—house graphics and print team using state of the art computer cutting equipment to recreate even the most intricate of patterns perfectly. If desired, Frostbrite can also be printed onto, providing the opportunity to add full colour graphics to glass.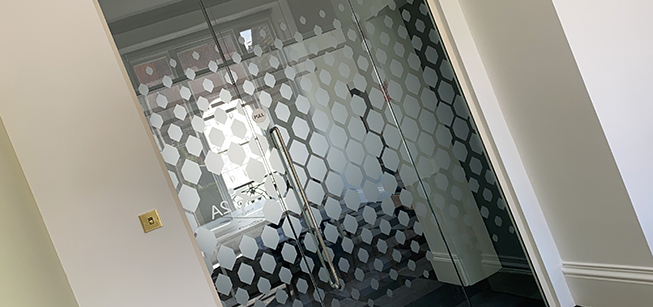 The client was able to provide exact sizes of each of the panels that required filming; ranging from standard sized windows to glass doors and full length partitions. These measurements including the edge gaps between each pane, allowing the print team to ensure that the pattern flowed seamlessly from pane to pane, with the design created to incorporate the small gaps between each panel.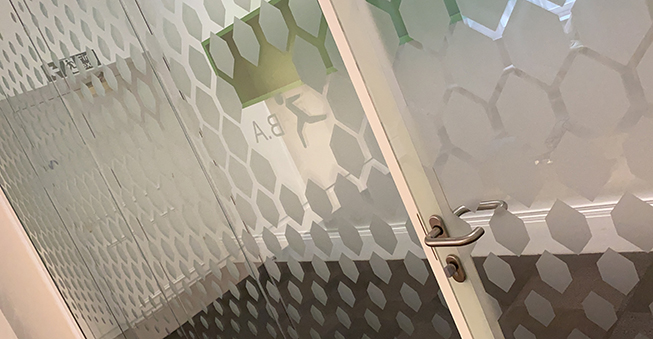 The film was fitted by a team of The Window Film Company's expert installation teams, delivering a perfect finish in each location. The end product was a stylish new look for the glass, ensuring that manifestation markings were met while giving the glazed areas of the property a striking and professional appearance.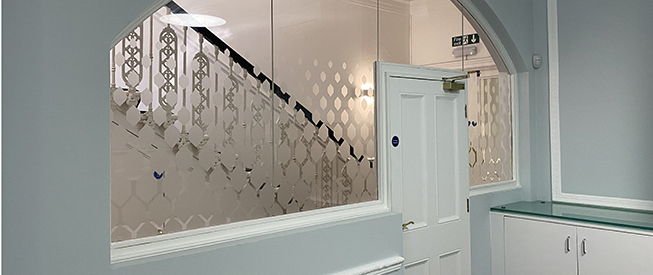 For more information on how The Window Film Company can help with printed graphics, manifestation and a whole host of other window film solutions including solar control, privacy and security, please contact a member of the team on 01494 794477 or email info@windowfilm.co.uk.