MAJESTIC MANIFESTATION IN LONDON
Mar 19 2021
The Window Film Company are experts in the creation and installation of glass manifestation markings, which are required by law on glazing such as glass doors and partitions. The markings are required to ensure that the glass is clearly visible, in turn serving to prevent accidents.
The relevant regulations dictate a minimum size for manifestation markings (you can read all about what's required by law in our manifestation section) and also sets out the positions in which they must be placed. The rules also state that any markings must provide a distinct contrast between the glass and the background, ensuring that the manifestation is clearly visible.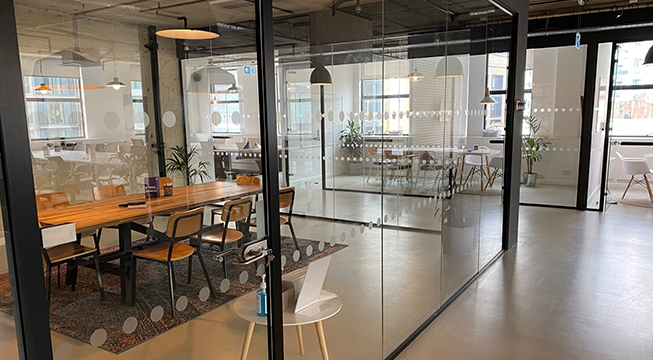 In practice, the rules mean that manifestation markings can take on a whole host of forms, with printed graphics, branded elements and other bold designs often used to meet the necessary legislation. On the flipside, using smaller markings can also deliver a stylish appearance while also meeting the stipulations set out in building regulations; and that was the solution chosen for this office in Greater London.
It was decided that for this project, requiring 17 linear metres of manifestation markings across a number of glass partitions, the most suitable solution would be circular emblems, created from The Window Film Company's Frostbrite frosted window film.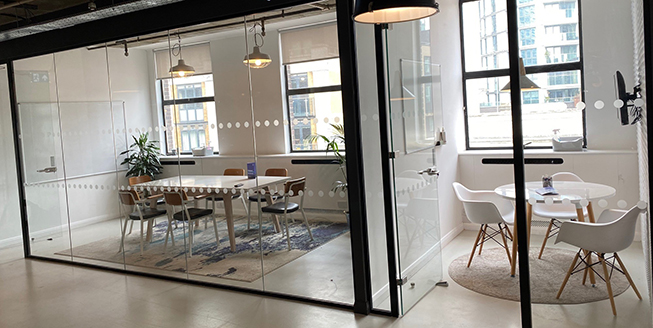 Frostbrite is a long lasting, durable and stylish window film that gives glass the appearance of acid-etched or sandblasted glazing once applied. It's perfect for manifestation as it can be computer cut (The Window Film Company uses state of the art precision cutting equipment to recreate a range of standard or custom created manifestation markings), provides the contrast required as well as delivering a sleek and professional look when in place.
The manifestation markings were cut by The Window Film Company's in-house print and graphics department, with each dot carefully checked by hand to ensure a perfect finish before being despatched with a team of The Window Film Company's fully qualified fitters for installation.
The film was placed in two rows across the glass partitions, serving to immediately meet manifestation regulations in a stylish and aesthetically pleasing way.
For more information on what can be achieved with manifestation from The Window Film Company, please call a member of our team by calling 01494 794477 or email info@windowfilm.co.uk.