LOVELY LATTICE: CUSTOM CREATED GRAPHICS
Mar 26 2021
Since being founded in 1998, The Window Film Company have forged a reputation as industry leaders in the creation and installation of custom created printed graphics for glass (and other surfaces!), delivering eye-catching and stylish displays for a vast range of clients.
Printed graphics can be required for a range of reasons, including manifestation and decoration – the two requirements of this visually impressive project. Manifestation markings are required by building regulations; a safety feature that is designed to ensure glass of a certain size is easily visible. This usually applies to glass doors or partitions, which without some sort of marking can be difficult to detect, in turn leading to accidents.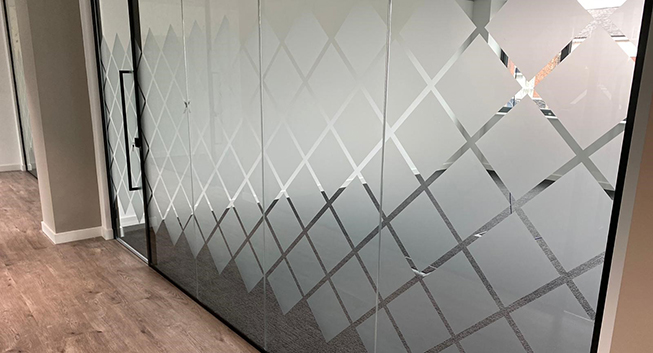 The size of manifestation markings are set out in the relevant legislation, with a minimum size of 50mm in height. Markings also need to be present at specific locations on the glass (between 850mm and 1000mm and 1400mm and 1600mm above the floor), with these locations designed to ensure maximum visibility, greatly reducing the possibility of accidents. Another stipulation for manifestation markings is that they should deliver a clearly visible contrast between with the glass and the background. It's for this reason that Frostbrite frosted window film is a popular solution and the choice for this eye-catching project.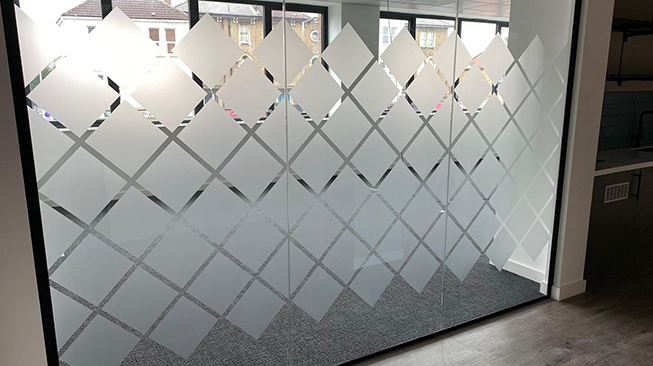 Frostbrite frosted window film has been specially developed to transform glazing with a simple application, immediately giving glass the appearance of acid-etched or sandblasted glass, a contemporary look that delivers both privacy and style. Frostbrite is popular for manifestation as it provides the necessary contrast when on the glass. It can also be printed on to create full colour graphics, or cut to deliver intricate recreations of branding elements or other designs.
Knowing that manifestation requirements had to be met, this client took the opportunity to create a large-scale display across their glass, something that would not only meet regulations, but would also serve to add a striking new look, making the premises look professional, welcoming and stylish throughout. The nature of the design, a repeated lattice effect, would also serve to deliver an element of privacy.
The film was to comprise a 1500mm high "band" of cut graphics, with the Frostbrite frosted film precision cut to deliver the desired lattice effect. Over 90 linear metres were required, with the film cut and prepared using state of the art computer cutting equipment by The Window Film Company's in-house print and graphics team. Each metre of film was carefully checked to ensure a prefect recreation of the design, before being despatched with a team of The Window Film Company's fully qualified and hugely experienced fitters for installation.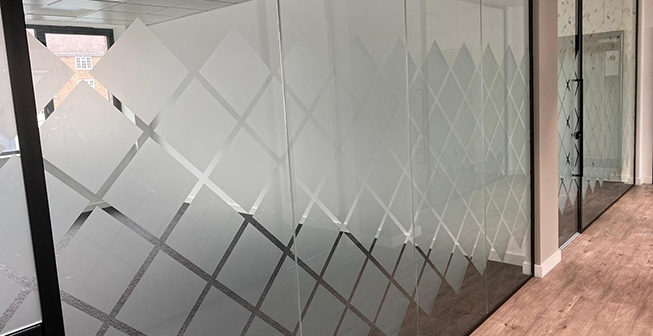 The fitting was completed at a time and date agreed in advance between the client and The Window Film Company's operations team, whose role it is to ensure a suitable date and all logistical requirements are taken care of, ensuring a seamless and unintrusive installation, delivering a perfect installation with the minimum of disruption to the premises.
The finished project saw what was standard, uninspiring glazing transformed to not only meet manifestation requirements, but also to provide a striking design feature throughout the premises.
For more information on the range of window films, manifestation markings and printed graphics that can be created, supplied and installed by The Window Film Company, please contact a member of our team by calling 01494 794477 or email info@windowfilm.co.uk.