RADIANT RAINBOW
May 14 2021
Rainbow window film from The Window Film Company is the ideal way to transform the colour of glass without blocking the view or sacrificing natural light.
This installation took place at a substantial property in London, where guidelines meant that replacement glazing had to be updated to look the same as the glass it replaced; with a section of coloured stained glass running across the top of each window.

As part of an extensive refurbishment programme at a substantial London property, the entirety of the glazing was replaced. The original windows boasted period features that included stained glass colouring across the top rows of glazing, and one of the requirements of the replacement glass was that this should be replicated to ensure the glazing is in keeping with the property's original appearance.
The Window Film Company was approached for a solution that could be retro-fitted to the glass in order to meet this stipulation.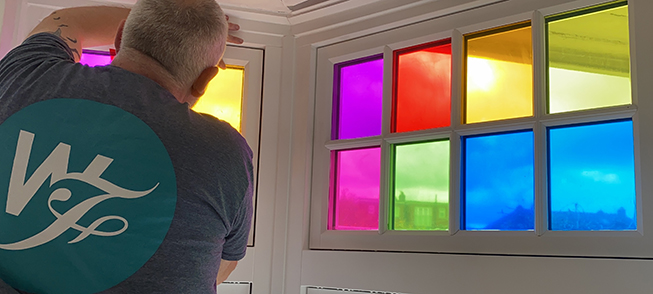 After discussing the requirement with the client, which included matching the original colour pattern as closely as possible, it was agreed that rainbow window film was the best solution.
Available in a wide range of different vibrant colours, rainbow window film immediately transforms the colour of glass without blocking the view from either side or sacrificing natural light. Once in place, especially when used in conjunction with different colours, the film provides the appearance of stained glass, making it perfect for this project.

The film was applied to 128 small windows by a team of The Window Film Company's fully qualified fitters, cutting each piece of film to the exact size required and giving each panel the required coloured appearance.
Once the film was installed, the new windows were transformed to feature the stained-glass effect of the original glazing.
For more information on the range of coloured window films supplied and installed by The Window Film Company, please call 01494 794477 or email info@windowfilm.co.uk.