FROST THE FIT FOR PRIVACY AND MANIFESTATION
May 21 2021
Window film is a stylish and practical way of adding privacy to glass. This can be achieved in a number of different ways, with Frostbrite frosted window film from The Window Film Company among the most popular and effective.
The Window Film Company was approached for a window film that would deliver privacy in addition to meeting manifestation requirements. Manifestation markings are required on glass of a certain size (usually large panes such as glass doors, partitions or full height glazing) to ensure that glass is easily visible, in turn serving to prevent accidents.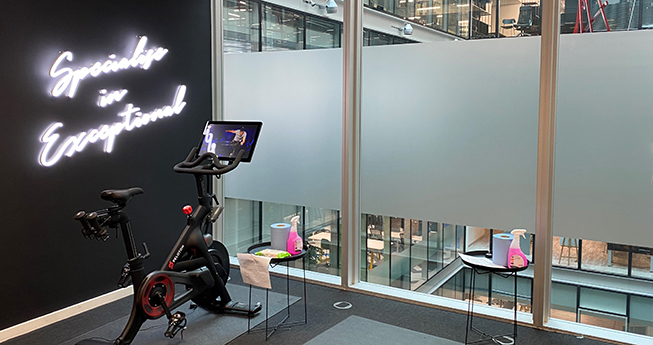 Regulations stipulate that markings must be located at specific heights on the glass (check out our full guide to manifestation legislation here) and that any markings must provide a contrasting appearance to the background.
Frostbrite frosted window film gives glass the appearance of frosted glazing, making it the perfect solution for manifestation requirements. The frosted effect provides the necessary contrast in appearance, while the quality finish also delivers a sense of contemporary style. Once in place the film also delivers two way privacy, blocking the view from both sides of the glass without sacrificing natural light.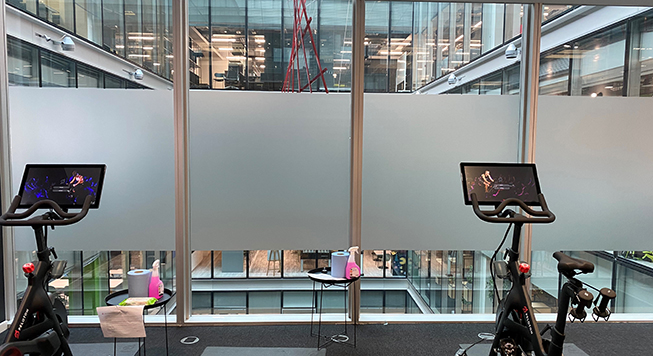 This combination of appearance and performance made Frostbrite the ideal solution for this project; a gym and fitness facility within a large London premises. It was a greed that a band of Frostbrite would be applied to the glass, running through the centre of the pane. This careful positioning ensured that the manifestation requirements were met, that the requisite amount of privacy was achieved, and that the finish was aesthetically pleasing.
The film was fitted by a team of The Window Film Company's installers, who were able to complete the installation with the minimum of fuss and disruption, alongside a perfect finish.
For more information on how The Window Film Company can help meet your manifestation needs and to deliver on your privacy requirements, please contact a member of the team by calling 01494 794477 or email info@windowfilm.co.uk.