IN FLIGHT ON FROST
May 07 2021
The Window Film Company uses high quality window films and state of the art print technology to supply and install custom created window films, perfect for giving windows a fresh new look and premises a memorable, professional and stylish appearance. This project saw the print and installation of over 20 large panels of bespoke Frostbrite frosted film at an Arts Centre in Birmingham.
The project required the creation and application of window film to the glass frontage of the premises, with the film required to deliver both privacy and an attractive new look.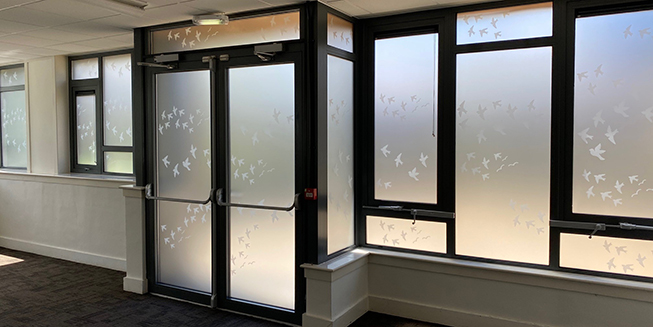 The decorative element was to include a design featuring several flocks of birds in flight, sweeping across the full width of the glass frontage, and this artwork was supplied to The Window Film Company for printing. It was agreed that the best way of achieving the best levels of privacy and decoration would be to print the design onto Frostbrite frosted window film.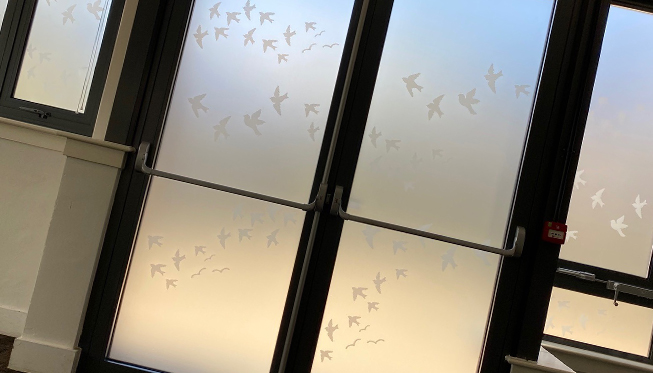 Frostbrite is a long lasting, durable and contemporary looking window film that has been specially developed to give glazing the appearance of acid etched or sandblasted glass. This frosted effect serves to block the view from both sides of the glass without sacrificing natural light, making it a desirable and popular privacy solution. Frostbrite is also an excellent film on which to print, making it suitable for creating bespoke privacy solutions; something The Window Film Company specializes in.
The sizes of each panel and the artwork were supplied to The Window Film Company's in-house print and graphics department, who set up and printed the artwork in brilliant white ink, using specialist wide format print technology. Each panel was then precision cut by computer cutting equipment, before being checked by hand and send out with a team of fitters for installation.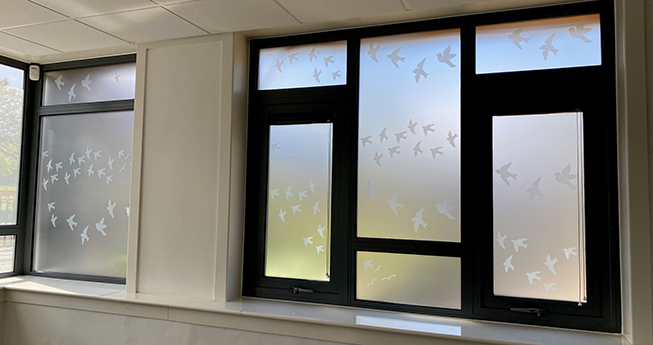 The work took place on a date agreed between the client and The Window Film Company's operations team, with the timing agreed to ensure the minimum of disruption at the premises.
With the film in place, the necessary privacy was achieved immediately, along with a vastly improved aesthetic finish. The design was visible from both sides of the glass, ensuring a pleasing and welcoming appearance for those outside and inside the centre.
For more information on the multitude of uses for Frostbrite frosted window film and the ways in which The Window Film Company can provide privacy and custom created printed graphics for your glazing (and other surfaces!) please contact a member of our team on 01494 794477 or email info@windowfilm.co.uk.