ANTI-GLARE WAREHOUSE INSTALLATION
Nov 19 2021
The Window Film Company has installed glare reduction film to a large expanse of glazing at a warehouse facility in West Sussex.
The facility is a distribution hub for a multi-national organisation and features extensive sections of glass throughout. The Window Film Company was approached to deliver a solution for one of these large sections, where year-round glare was creating an uncomfortable internal environment.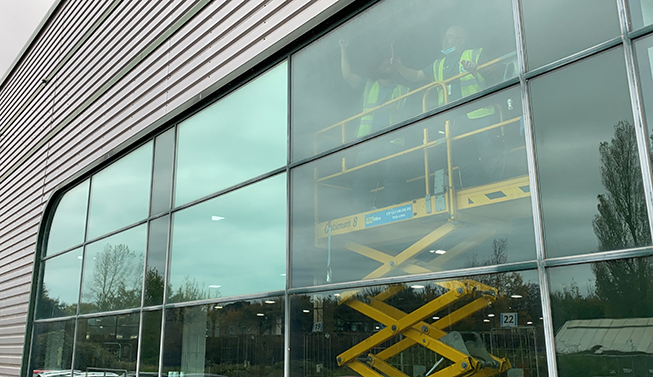 Large windows are popular for a number of reasons. They provide a stylish, contemporary look, allow for a view in and out of buildings and also allow for excellent levels of natural light; all of which are benefits for a large commercial property such as this. Big windows can also result in problems, however. Left untreated, the sun's solar energy can pass through the glass, with excess heat serving to quickly raise the internal temperature to potentially uncomfortable levels. While excess heat is usually a seasonal problem, glare can be a year round problem, with sunlight passing through the glass and making it difficult or uncomfortable to focus on colleagues, screens, machinery or other work related tasks.
The Window Film Company supplies and installs a range of specialist window films designed to reduce glare, and after discussions with the team at the warehouse, it was agreed that the most suitable product for this project would be the high-performance product – High Reflective Silver.
As the name suggests, the film has a reflective appearance, with properties that deliver a glare reduction figure of up to 79%. This window film can also reject up to 78% of excess heat, while also blocking 99% of the sun's potentially harmful UV rays – the biggest single contributing factor to fading. All this is achieved while still allowing a view from the inside out and without sacrificing high levels of natural light.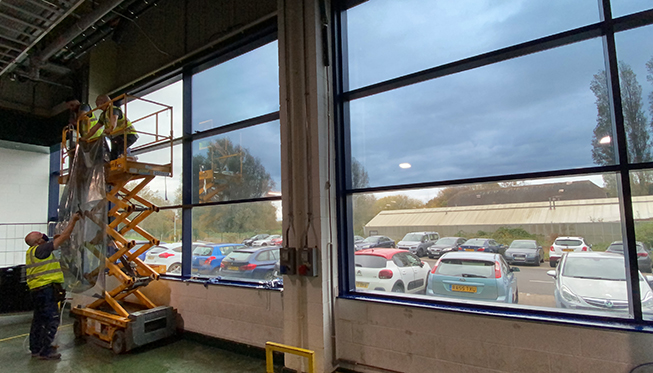 The film was applied to the internal face of the glass by a team of The Window Film Company's fully qualified and hugely experienced installers, using powered access equipment (logistical issues such as this are organised in advance by The Window Film Company's dedicated Operations Team) installing film to over 100 square metres of glass.
With the film in place, the glare reduction effects were felt immediately, with the view to the outside maintained and a stylish exterior finish delivering the ideal solution to what was a year-round challenge.
For more information about the full range of window films supplied and installed by The Window Film Company, please contact a member of our team by calling 01494 794477 or email info@windowfilm.co.uk.