GLARE REDUCTION IN CAMBRIDGE
Oct 01 2021
The Window Film Company has completed the installation of high-performance glare-reduction film at a large facility in Cambridge.
Glare can be a problem all year round. Sunlight can pass through untreated glass, making it difficult to focus on screens, colleagues, machinery or other tasks, with the changing position of the sun throughout the year making it a potential issue whatever the season.
An application of window film can help. Once in place the film filters out a percentage of the sun's harshest light, with the performance level and glare reduction dependent on the film chosen.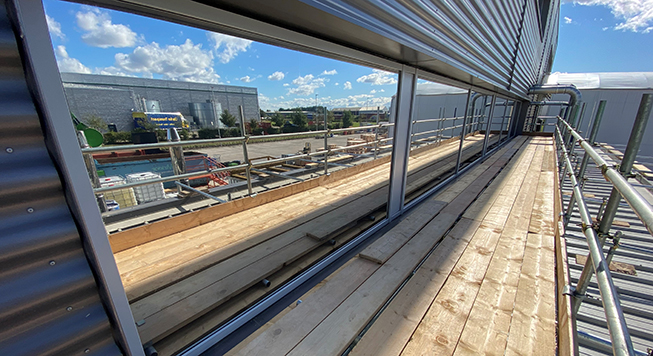 For this project, the film selected was High Reflective Silver. As well as reducing glare by 79%, the film delivers additional benefits, including reducing excess heat by up to 78% and filtering out 99% of the sun's potentially harmful UV rays – the single biggest contributing factor to fading.
All of these benefits are delivered without sacrificing high levels of natural light or blocking the view from the inside out. The external face of the film takes on a silver, reflective appearance during daylight hours, serving to filter out the harshest of the sunlight all year round, while also guarding against over-heating, helping to slow down the fading process and also providing daytime privacy should it be required.
The film was required across 8 large panes, totalling over 43 square metres of glass, located at a part of the facility that was particularly affected by glare. The internal layout of the facility meant that the film had to be applied to the external face of the glass, meaning the use of a speciallity external grade version of the film. This also meant logistical considerations including the usage of scaffolding to access the glass. This, alongside the other on-site requirements, was handled by The Window Film Company's dedicated Operations Team, ensuring everything was taken care of ahead of the installers visit to site. This enabled The Window Film Company's fitting team to concentrate on fitting the film, delivering a perfect finish across the large run of glazing.
The finished project saw the external face of the glass taking on a stylish and contemporary appearance, with glare reduction of up to 78% achieved without blocking the view from the inside out, or sacrificing high levels of natural light.
For more information or advice on your options when it comes to reducing glare, preventing excess heat or blocking UV rays, please call a member of our team on 01494 794477.