SOLAR CONTROL AND STYLE
Oct 15 2021
The Window Film Company has completed a dual installation of window film, delivering effective heat reduction, one-way privacy and a stylish new look for one of the buildings at the Thames Barrier facility.
The project required the installation of two window films; one to reduce heat and the other to complete a stylish design feature, delivering an impressive and attractive external appearance, complementing existing detail in the building walls.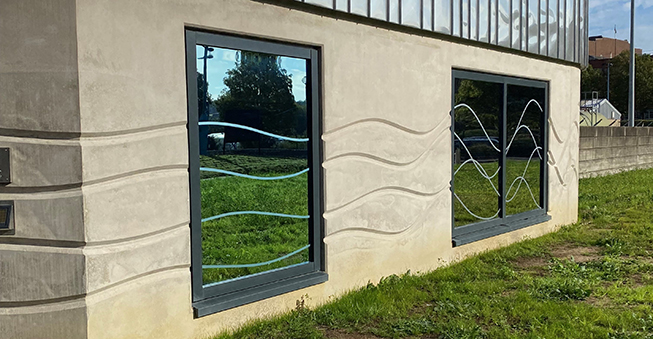 It was agreed that the heat reduction section of the project would be completed using High Reflective Silver; a high-performance solar control window film that reduces excess heat by up to 78%, while also delivering the added benefits of glare reduction and the filtering of potentially harmful UV rays.
The film works by way of a silver, mirrored effect, which serves to reflect away a percentage of the sun's heat, preventing it from passing through the glass and adding to the internal temperature. This is achieved without blocking the view from the inside out, meaning that not only is the film a highly effective heat reduction solution, it also provides daytime one-way privacy. During daylight hours, those outside will see their reflection, while anyone inside the property would enjoy an unrestricted view to the exterior.
The second part of the project was the application of computer cut Frostbrite frosted film, designed as a stylish decorative flourish to fit in with existing engraved patterns on the external wall. The stylish stone wall had been engraved with a wave design, comprising a number of undulating lines, designed to represent the River Thames. The window film was required to ensure that this design continued seamlessly right across the front of the premises, spanning both glass and brick, delivering a stunning, uninterrupted feature.
The project team at the Thames Barrier were able to supply the necessary measurements and artwork, allowing The Window Film Company's print and graphics team to use state of the art computer cutting technology to recreate the necessary designs perfectly, ensuring that the window film would match perfectly with the existing design engraved into the wall surface.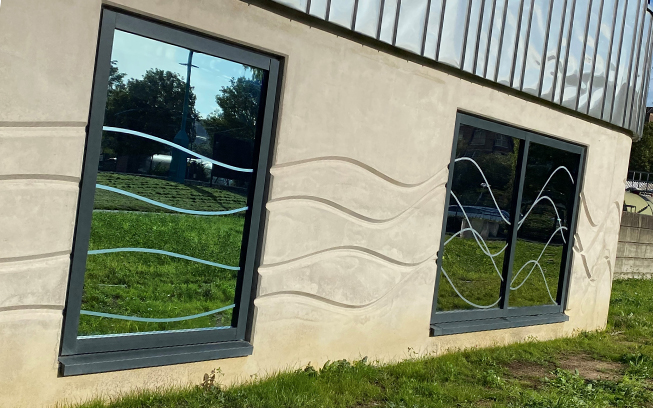 Both films were installed by a team of The Window Film Company's talented fitters, with the High Reflective Silver solar control film applied to the inside of the glass, before the precision cut strips of Frostbrite frosted film were carefully applied to the exterior.
The finished installation left the exterior of the property looking modern, stylish, eye-catching and impressive, while the functional elements of the reflective window film meant that both internal heat build-up and glare were reduced.
For more information on the solar control window films supplied and installed by The Window Film Company, or for details on how The Window Film Company can create custom graphics for your glass and other surfaces, please contact a member of our team by calling 01494 794477 or email info@windowfilm.co.uk.